Poultry
Chinese-Style Chicken Curry. This is an excellent Chinese-Style chicken curry recipe.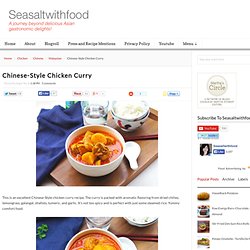 The curry is packed with aromatic flavoring from dried chilies, lemongrass, galangal, shallots, tumeric, and garlic. It's not too spicy and is perfect with just some steamed rice. Yummy comfort food. Recipe | Chicken Curry with Potatoes. I am lucky to have grown up in a multiracial nation and get to eat variety of food and cuisine since small.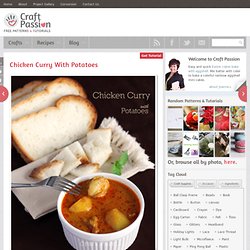 This Curry Chicken With Potatoes is one of my favorite dishes. Today I am going to share the recipe of this home cook yummy curry chicken with potatoes my mum fed my siblings and I for many many years. You can either eat it with rice or dip with bread then later savor the chicken and potatoes. Cooking for family is not an easy task, which I only realized it after leaving home for education advancement, and, again when I have my own family. Crispy Chicken with Creamy Italian Sauce and Bowtie Pasta. Slow Cooker Cheesy Chicken And Rice (The downside of being a Swan Princess) I have a firmly held belief that the most important lessons in life are learned in Kindergarten.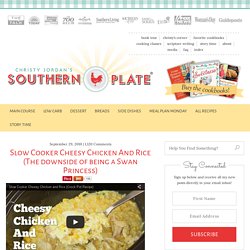 For this reason (and many others) when my five year old speaks, I listen. Oftentimes she'll say something that has me stifling a giggle (Katy Rose does not like for folks to laugh at anything she says right now unless she clearly states that it is a joke beforehand), but others she'll speak something truly profound and in her innocence has no idea that she has just opened her mama's eyes to wisdom once again. Chicken Marsala | Chicken Recipes. One of my favorite easy weeknight dinners is chicken marsala.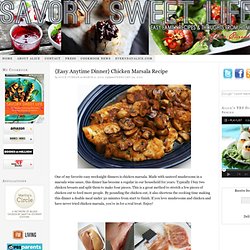 Made with sauteed mushrooms in a marsala wine sauce, this dinner has become a regular in our household for years. Typically I buy two chicken breasts and split them to make four pieces. This is a great method to stretch a few pieces of chicken out to feed more people. By pounding the chicken out, it also shortens the cooking time making this dinner a doable meal under 30 minutes from start to finish. If you love mushrooms and chicken and have never tried chicken marsala, you're in for a real treat. Chicken teriyaki. I've been cooking for as long as I can remember and in certain periods of my life I did not have much time to spend in the kitchen – I needed delicious yet quick meals for weeknights.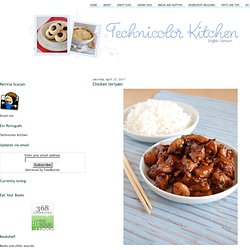 On my days as a single lady I used to make lots of pasta – both my dad and my sister are crazy for it and dinner would be on the table in less than half an hour. Recently I've been trying my hand at Asian recipes and some of them are absolutely delicious – and equally fast. Honey Glazed Chicken and Bacon Bites. I had an idea.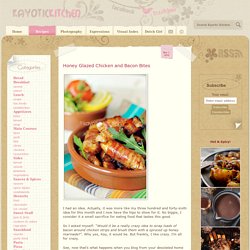 Actually, it was more like my three hundred and forty-sixth idea for this month and I now have the hips to show for it. No biggie, I consider it a small sacrifice for eating food that tastes this good. So I asked myself: "Would it be a really crazy idea to wrap loads of bacon around chicken strips and brush them with a spruced up honey marinade?". Why yes, Kay, it would be. But frankly, I like crazy. Lemon Chicken » Annie's Eats. I'm really amazed at how my tastes change with the seasons.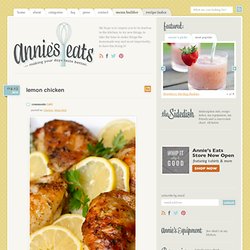 It's certainly not intentional, but when the weather warms up I'm immediately in the mood for light, spring-inspired fare. (Likewise, once fall rolls around, I'm all about chili and everything pumpkin, pumpkin, pumpkin!) I have started to really enjoy lemon in desserts and baked goods, but I have yet to make many main dishes with lemon as the primary flavor. The marinade and sauce provide just the right amount of lemon flavor without being overpowering or sour. Spanish Chicken with Chorizo and Potatoes. We've managed to both forget our fifth anniversary last Friday.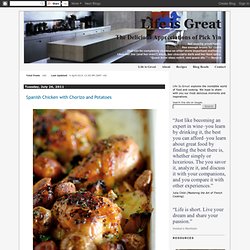 I don't know if it's due to my working like mad before having to catch a delayed flight back from Shanghai late in the evening while Vijay was too comfortable with me leaving him a free man for almost two weeks. The nearly forsaken milestone was only remembered when Vijay examined the leather strap of his watch, then sparking up a recap of our various gifts to each other past birthdays, Christmases and yes, the day we got together. Putting aside our ailing memories - mine is not a surprise, Vijay forgot the exact date and had to check his diaries - we seized the day and celebrated with an all-American dinner, ending up with the love of my life asking if I could make him bacon topped cheesy fries and Buffalo wings with blue cheese dressing next. Recipe for Saffron Chicken with Parsley and Lemon. (This recipe from November 2005 was revisited and updated April 2011.)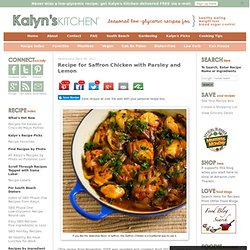 Have you ever cooked with saffron? It's widely acknowledged to be the most expensive spice in the world, but you only need a tiny pinch to add delicious flavor to a dish like Paella, Saffron Rice, and this delicious Saffron Chicken which I first tasted when my Iranian friend Massoud made it for me. Crock Pot Chicken and Dumplings Recipe! | BubbleCrumb.
Looking for an easy meal your family will love?
Look no further!! This Crock Pot Chicken and Dumplings Recipe is sure to please! It's really a cross between Chicken and Dumplings, Chicken stew and Chicken Pot Pie! Add your own personal touches like peas, carrots, potatoes or even mushrooms to make it your own!!
---