Eat Your Heart Out
Yakbap (steamed sweet rice cake with nuts and golden raisins) I'm no dummy.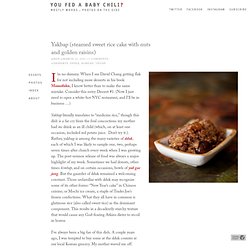 When I see David Chang getting flak for not including more desserts in his book Momofuku, I know better than to make the same mistake. Consider this entry Dessert #1. (Now I just need to open a white-hot NYC restaurant, and I'll be in business …) Cooking Basics | Victory or Death in the Kitchen. Warning!
This post contains material that may be harmful to the gluten-free. Bread. It's the chewy, crusty, essence of life – an ancient and timeless staple. When we make bread, it puts some part of us in touch with those countless generations that came before us. After all, entire civilizations have been fed by and built upon bread.
Seafood. Pasta. Drinks. Appitizer. Soup. Side Dish. Sandwiches. Breakfast. Everything Food.
Beef. Poultry.
Swine
---