DESIGN
15 Creative Brochure Designs. Written by Jacques van Heerden On Tuesday, April 3rd, 2012 with 4 Comments so far in Graphic Design, Inspiration Brochures are used in a lot of different ways to promote businesses around the world.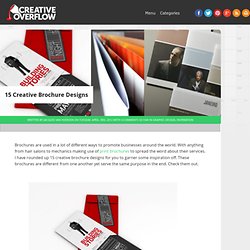 With anything from hair salons to mechanics making use of print brochures to spread the word about their services. I have rounded up 15 creative brochure designs for you to garner some inspiration off. These brochures are different from one another yet serve the same purpose in the end. Packaging of the World: Creative Package Design Archive and Gallery. Smileinyourface. Trendtrekking. Delicatessen (New York) The brains behind Chelsea's 24-hour burgerfest Cafeteria ventured downtown for a similar concept on cheap food done up.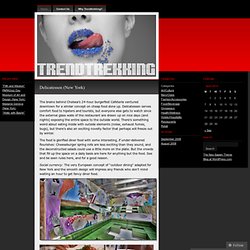 Delicatessen serves comfort food to hipsters and tourists, but everyone else gets to watch since the external glass walls of the restaurant are drawn up on nice days (and nights) exposing the entire space to the outside world. There's something weird about eating inside with outside elements (noise, exhaust fumes, bugs), but there's also an exciting novelty factor that perhaps will freeze out by winter. The food is glorified diner food with some interesting, if under-delivered flourishes: Cheeseburger spring rolls are less exciting than they sound, and the deconstructed salads could use a little more on the plate. Bloved | inspiring your wedding, with love. Just before Christmas I received an email from the team behind Brides The Show, asking if I wanted to get involved as an 'Official Blogger Ambassador'.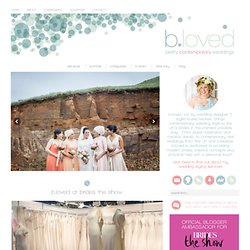 Of course to be associated with one of the UK's top wedding shows is a complete honour, but Brides is just another level! I love that they pick only the most stylish, dedicated suppliers to exhibit, and partner with incredible brands (Laurent Perrier, anyone?!) Art|Handmade|Design. EnglishHi everyone, here I am finally and officially back to work on the IB blog after the Summer break!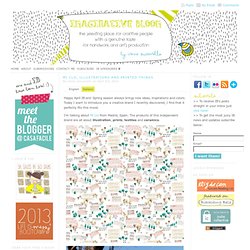 How was yours? Mine is flown in a flash but I'm super happy and thankful for the little holiday I made in Rovinj, Croatia (wonderful place guys!) And for the time I spent together with other special friends. 'nuff said. Let's start featuring a new creative I discovered and immediately loved for the cute line of illustrated products she developed. Inspirations. EnglishI'm feeling totally inspired by this amazing 75 minutes DIY documentary film on new art made at NOVA Contemporary Culture event!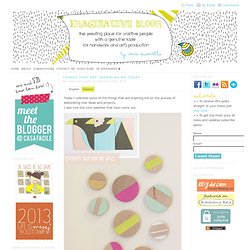 I love love love it and have absolutely to share it with you!! You'll see many young artists using many different means and approaches. From common tape to non sticky flagging tape (I didn't know this kind of tape,amazing neon and bright colors!) 40 Juicy JWT Campaigns - From Dissective Advertising to Tattoo Shaving. World-renowned agency James Walter Thompson, better known as JWT, is the fourth largest agency in the world and one of the oldest.
JWT has agencies in almost every country. JWT is American, however they house agencies in over 90 countries.
---