DIY
I'm obsessed with making-over old, worn out furniture. It's amazing how almost any old piece can be totally transformed with new paint, hardware and a little imagination! Here are three examples from Ladies Home Journal...click here to read the entire article. Out-dated side table with stone top transformed into a bright and cheerful accent piece! *First they removed the hardware and stone top, sanded the table all over, and applied a coat of primer.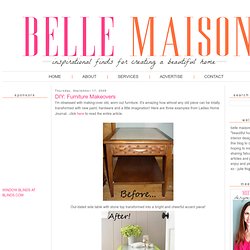 Stylish and Unique Headboard Ideas
Tree Table - Table Projects - DIY Decorating - MarthaStewart.com
Stair-Tread Side Table - Table Projects - DIY Decorating - MarthaStewart.com
Use this trim down the long edge of linen curtains to add a touch of whimsy. Tools and Materials Measuring tape Linen sheers Scissors Pom-pom fringe Straight pins Needle and thread (or fabric glue) Curtain How-To 1. Measure the length of a curtain; cut 2 strips of pom-pom fringe (one for each edge) to the same length.
Pom-Pom Fringe Curtains - Martha Stewart Home and Garden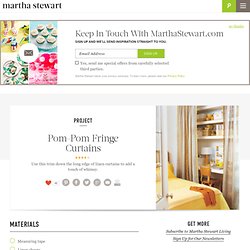 Ribbon-Striped Sheer Curtains - Martha Stewart Home and Garden
Family photographs instantly add warmth and personality to your home. Take them out of the attic, off your computer, or out of the infrequently viewed albums on your bookshelves, and enjoy them every day. Invite a friend over, and you can create this meaningful and flexible display in an afternoon.
Collage Frame Photo: Hanging Photo Display - Photos - SouthernLiving.com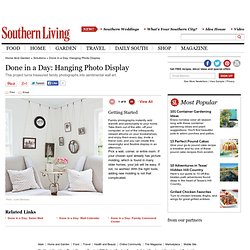 Headboards and Canopies DIY « Elements of Style Blog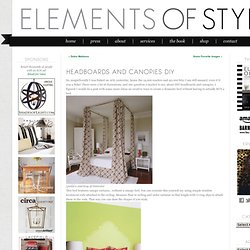 So, magnificently I was linked on AOL yesterday, hence the 14,000 readers and 40,000 hits. I am still amazed, even if it was a fluke! There were a lot of discussions, and one question e-mailed to me, about DIY headboards and canopies. I figured I would do a post with some more ideas on creative ways to create a dramatic bed without having to actually BUY a bed.
How to Make a Fabric Canopy Headboard
There are several ways that you can make your canopy headboard stand out. You will find that making your canopy headboard out of fabric can really make it look different and fun. Step 1 – Measure
Fabric Canopy Headboard : Rooms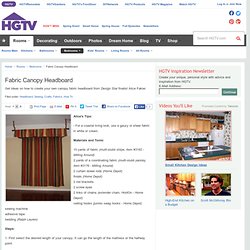 Alice's Tips: - For a coastal living look, use a gauzy or sheer fabric in white or cream. Materials and Tools:
Decorating With PVC- Rental Decorating Digest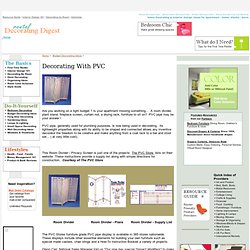 Decorating With PVC Are you working on a tight budget ? Is your apartment missing something...