Social Media
What You Need to Know About YouTube's New Analytics Program | Blog | Daily Dose. Google's video publishing powerhouse YouTube recently unveiled a major upgrade to its video analytics predecessor YouTube Insight.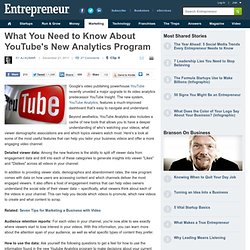 The new system, YouTube Analytics, features a much-improved dashboard that's easy to navigate and understand. Beyond aesthetics, YouTube Analytics also includes a cache of new tools that allows you to have a deeper understanding of who's watching your videos, what viewer demographic associations are and which topics viewers watch most. Here's a look at some of the most useful features that can help you tailor your business videos and offer a more engaging video channel: Incredible Things That Happen Every 60 Seconds On The Internet. iPhone 4S camera is superpopular on Flickr after only a month | iPhone Atlas. According to a keen eye from MacRumors, the iPhone 4S, in just over a month after its release, has become the second most popular camera phone on Flickr, trailing only the iPhone 4.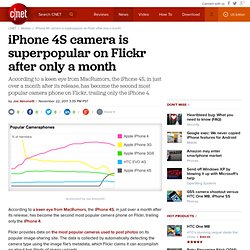 Flickr provides data on the most popular cameras used to post photos on its popular image-sharing site. The data is collected by automatically detecting the camera type using the image file's metadata, which Flickr claims it can accomplish on about two-thirds of image uploads. These graphs are also constantly changing, which makes the page an interesting gauge at current camera usage and popularity as it relates to Flickr members. Apple's internal employee social media policies leaked. After sacking one of its employees over a series of Facebook rants, Apple made it clear that the employee in question was acted in "gross misconduct" and against its internal social media policy.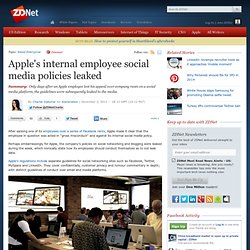 Perhaps embarrassingly for Apple, the company's policies on social networking and blogging were leaked during the week, which ironically state how its employees should conduct themselves as to not leak data. Apple's regulations include separate guidelines for social networking sites such as Facebook, Twitter, MySpace and LinkedIn. They cover confidentially, customer privacy and rumour commentary in depth; with distinct guidelines of conduct over email and media platforms. (Source: Flickr) In general, what employees do in their own time is their choice, but Apple states in its guides that: Can Social Shopping Finally Take Off? Analog shopping is inherently social.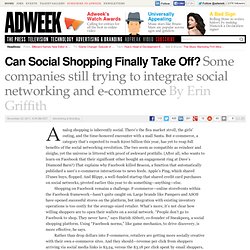 There's the flea market stroll, the girls' outing, and the time-honored encounter with a mall Santa. But e-commerce, a category that's expected to reach $200 billion this year, has yet to reap full benefits of the social networking revolution. The two seem as compatible as reindeer and sleighs, yet the universe is littered with proof of awkward pratfalls. (After all, who wants to learn on Facebook that their significant other bought an engagement ring at Dave's Diamond Barn?) Chumkee Launches New App For Social Photo & Video Conversations. An odd but interesting new photo-and-video sharing iPhone app called Chumkee is officially announcing its public launch today.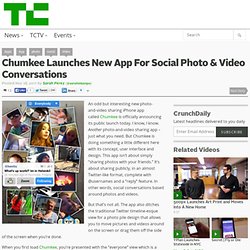 I know, I know. Another photo-and-video sharing app – just what you need. Kodak lets iPhone users get social for snaps | Digital Media. Kodak will launch a new version of its iPhone app today that won't get the sort of hype Color did this spring.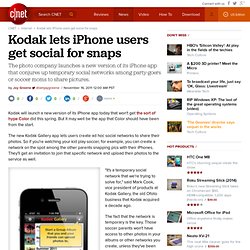 But it may well be the app that Color should have been from the start. The new Kodak Gallery app lets users create ad hoc social networks to share their photos. So if you're watching your kid play soccer, for example, you can create a network on the spot among the other parents snapping pics with their iPhones. Photogene for iOS gets a complete overhaul | The Download Blog. Browse your photo library and choose from small, medium, or large thumbnails.
(Credit: Screenshot by Jason Parker/CNET) There are tons of photo-editing apps in the iTunes App Store, but a recent update to an old favorite might be one of the best yet. It's called Photogene 2 and it offers so many tools that it's almost like it does the job of multiple apps. Photogene 2 (99 cents until November 17) is the successor of a favorite photo-editing app of ours on iOS, and this completely rebuilt version is definitely worth checking out. Microsoft working on its own social network Socl. A Single Day Of Uploaded Flickr Photos Printed Out. An avalanche of photos fills a large room in the Foam gallery in Amsterdam.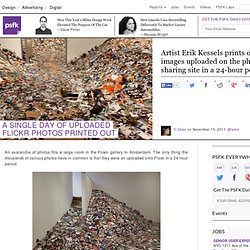 The only thing the thousands of various photos have in common is that they were all uploaded onto Flickr in a 24-hour period. The installation is by artist Erik Kessels and looks at the future of photography as part of Foam's 10th anniversary. Proskore wants to measure your professional reputation like a science. New startup Proskore intends to measure a person's professional worth by assessing the raw data listed on their resume along with their reputation in online communities.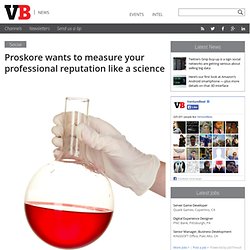 Proskore determines a score of 1 to 100 for each person by considering a number of factors, such as work experience, online reputation, business contacts and social media activity. The startup has previously been described as a professional version of online influence measurement service Klout. Social Media Keys Ford's Marketing Renaissance - AutoObserver. By Dale Buss November 3, 2011 When Ford CMO Jim Farley delivers a keynote address at a big national convention of bloggers in Los Angeles Friday, he will become the first-auto industry marketing chief to do so.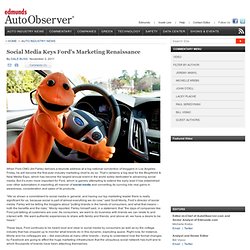 That's certainly a big deal for the BlogWorld & New Media Expo, which has become the largest annual event in the world solely dedicated to advancing social media. Kevin Rose launches Oink on iPhone: Yelp, Instagram and a dash of Foursquare. Digg co-founder Kevin Rose has just launched his new discovery app Oink, which lets users tag and rate the things around them. Oink users take photos with their iPhone, tag their location, and can use photo filters, so the concept combines what people like about photo sharing app Instagram, reviews site Yelp, and the location service Foursquare.
Oink differentiates itself from other mobile and social apps because of its emphasis on rankings-based discovery, and it takes the idea of user-generated content somewhere it hasn't been before. "For us it's really about ranking things," Rose told VentureBeat. Infographic: The Most Valuable Digital Consumers. These days, Social/Local/Mobile seems to be driving much of the conversation about online opportunities.
But at the end of the day, there is only one constant common denominator across the Web: the consumer. An understanding of this consumer and how they are influenced by social, mobile and local experiences online is vital to big brands looking to reach them on the Web. Shutterstock for iPad gets released, showcasing 16mm images - TNW Apps. 3 November '11, 08:26pm Follow If you're as addicted to amazing images as we are here at TNW, you're going to love this. While Flickr, 500px and the rest of the semi-pro sites around the Web have had great access via mobile for quite some time, Shutterstock has been sadly left behind.
App Review: Minus for iPhone, iPod touch & iPad [Minus Harnesses the Power of the Cloud to Help You Manage & Share All Sorts of Files on the Go. Photo Sharing Will Increase Engagement. Everyone likes taking photos. But can they really get you more leads? Whether you are out with friends and snapping to keep a memory alive, or are holidaying in the most heavenly place on Earth, you take photos so you can remember and share an experience. Publishing photos online is the new way of sharing your story. We all know Facebook is one primary place you can go to upload your latest snaps but why stop there? And why only do it for your personal life? 26 Tips for Using Images to Engage Fans and Followers. You've heard this: A picture is worth a thousand words." But can it actually help you engage with customers and prospects?
In this post, I'll share ways you can ; ones that will help keep the conversation flowing. Among the topics covered in this post are tools, tips and strategies that can be used to enhance the visual representation of your business. As I've done in the other posts in the 26 Tips series , this post provides an easily digestible A-Z guide to which you can return time and again. How to Fix a Social Media Screw Up.
Pamela Poole: The Web Is a Room With a View. Infographic Explores if Social Media Invites Burglars. Snip.it Lets You Collect and Share Web Content That Matters to You [INVITES] Five Scary Social Media Horror Stories. Social Media Usage Pattern Of iPhone And Android Users [Infographic] Audubon's "Birding The Net" Social Media Game Brings Competitive Birdwatching To Our Fingertips. China to step up social media censorship | World news. New social media upstart Unthink challenges tyranny of Facebook. The problem with social media influence? It's me and you.
Social media's power to amplify TV programming — Online Video News. How consumers interact with brands on social media [inforgraphic]
1000memories' Shoebox wants to store your paper memories. Advice. Foursquare: More Than Fun & Games, A Potent Local Search Tool. FBI Hopes Social Media Helps Solve NM Cold Case. 12 Most Particularly Annoying Social Media Practices | A Social-Media Evangelist Dons a Hair Shirt | Bob Garfield.
Social Media, Pretend Friends, and the Lie of False Intimacy | social networks. New social network connects people based on gut bacteria. Will Mightybell Be The Next Facebook? Or The Next Foursquare? 14 epic social media fails. Silverpop Marries Foursquare to Email. Charlie Sheen beats Ashton Kutcher in social media race. Home Depot's Social-Media Strategy Pays Off | Special: Social Media Guide. Finding an Instant Date Nearby, With an App. Liquor Industry Updates Advertising Rules for Social Media Age. Tumblr Continues Upwards Surge. Don't overdo your online networking. The Real ROI of Social Media. Social Media Grocery Hall of Shame and Fame.
Top contender for Nobel Peace Prize? Social media. Thanks To Whole Foods Deal, LivingSocial Grew Five Times Faster Than Groupon In September. Social Media 'Professional' Forgot to Protect His Password. 25 Women That Rock Social Media. From Grad Student to Social Media Millionaire. Backupify nabs new $5M round to back up social media data. Social is Intriguing, But Search is Proven.
New Magazines Help Business Owners Use Social Media. LinkedIn, Twittered out – the business and pleasure of social media. How RadioShack Lures Customers With Foursquare - The BrainYard. MapQuest Will Roll Out a New Product Called MQ Vibe. 29 Reasons You're A Socialmediaphiliac. Estimating the Damage to the U.S. Economy Caused by Angry Birds - Alexis Madrigal - Technology.
Using Social Media to Predict Box Office. Search Wars? Just Wait For The Social Wars.
---