Pinterest
Pinterest: Link Building & SEO Strategies. I've seen more SEO interest in Pinterest in the last month than the rest of the image bookmarking site's life.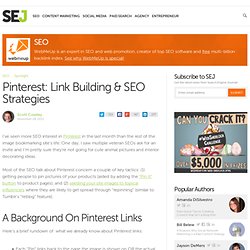 One day, I saw multiple veteran SEOs ask for an invite and I'm pretty sure they're not going for cute animal pictures and interior decorating ideas. Most of the SEO talk about Pinterest concern a couple of key tactics: (1) getting people to pin pictures of your products (aided by adding the "Pin It" button to product pages), and (2) seeding your site images to topical influencers where they are likely to get spread through "repinning" (similar to Tumblr's "reblog" feature). Pinterest Appeals to Online Collectors. Growing up in the Midwest, Ben Silbermann was an avid collector of insects, knickknacks, stamps, you name it.
Now Mr. Silbermann has turned that childhood hobby into a start-up called Pinterest that he runs with two of his friends, Evan Sharp and Paul Sciarra. The service, which got off the ground in March and is based in Palo Alto, Calif., is an online pinboard. Snip and Save or Put a Pin in It: Two Ways to Share Web Faves. WhereIsTheCool.com: A Lazier Pinterest for Men. With its pink and white color scheme and emphasis on self expression, Pinterest has found a rapidly growing audience of women, and investors are lining up.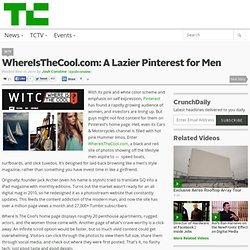 But guys might not find content for them on Pinterest's home page. Hell, even its Cars & Motorcycles channel is filled with hot pink Hummer limos. Enter WhereIsTheCool.com, a black and red site of photos showing off the lifestyle men aspire to — speed boats, surfboards, and slick tuxedos. The Rise Of Pinterest And The Shift From Search To Discovery. The current toast of the web is Pinterest, the visual pinboard for collecting and sharing content online.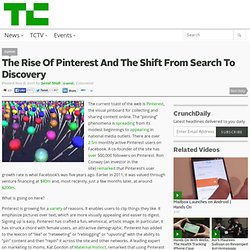 The "pinning" phenomena is spreading from its modest beginnings to appearing in national media outlets. There are over 2.5m monthly active Pinterest users on Facebook. A co-founder of the site has over 500,000 followers on Pinterest. Ron Conway (an investor in the site) remarked that Pinterest's user growth rate is what Facebook's was five years ago. Earlier in 2011, it was valued through venture financing at $40m and, most recently, just a few months later, at around $200m.
How Pinterest Transformed the Traditional Corkboard in a Digital Era. Pinterest is a social media site that allows us to categorize, connect and discover.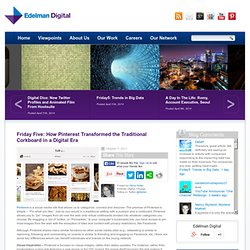 The premise of Pinterest is simple – "Pin what you like." Just as you would in a traditional setting with a pushpin and a corkboard, Pinterest allows you to "pin" images from all over the web onto virtual corkboards divided into whatever categories you choose. By dragging a "pin-it" button, or "Pinmarklet," to your computer's bookmarks bar, you have access to pin most images from the web with the exception of sites and content with privacy restrictions, like Facebook.
Pinterest Joins Twitter And Facebook As The Newest Self-Expression Engine. Get ready to start hearing a lot about Pinterest.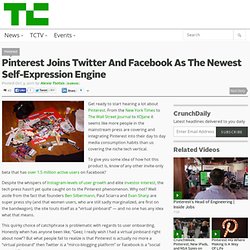 From the New York Times to The Wall Street Journal to XOJane it seems like more people in the mainstream press are covering and integrating Pinterest into their day to day media consumption habits than us covering the niche tech vertical. To give you some idea of how hot this product is, know of any other invite-only beta that has over 1.5 million active users on Facebook? Pinterest stands out in crowded social media field. It's bad for a tech startup when the founder wakes up to a barrage of emails saying the website crashed, or some part of it is broken.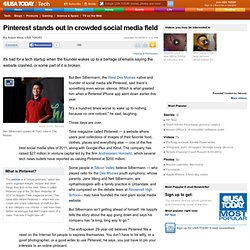 But Ben Silbermann, the West Des Moines native and founder of social media site Pinterest, said there's something even worse: silence. Which is what greeted him when a Pinterest iPhone app went down earlier this year. "It's a hundred times worse to wake up to nothing, because no one noticed," he said, laughing. Those days are over.
Time magazine called Pinterest — a website where users post collections of images of their favorite food, clothes, places and everything else — one of the five best social media sites of 2011, along with Google-Plus and Klout.
---