Pinterest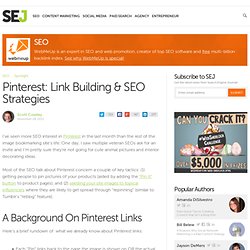 Pinterest: Link Building & SEO Strategies
inShare277 I've seen more SEO interest in Pinterest in the last month than the rest of the image bookmarking site's life. One day, I saw multiple veteran SEOs ask for an invite and I'm pretty sure they're not going for cute animal pictures and interior decorating ideas.
Pinterest Appeals to Online Collectors
Snip and Save or Put a Pin in It: Two Ways to Share Web Faves
With its pink and white color scheme and emphasis on self expression, Pinterest has found a rapidly growing audience of women, and investors are lining up.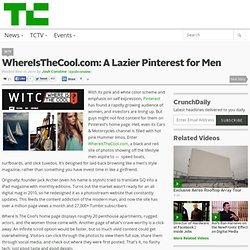 WhereIsTheCool.com: A Lazier Pinterest for Men
The Rise Of Pinterest And The Shift From Search To Discovery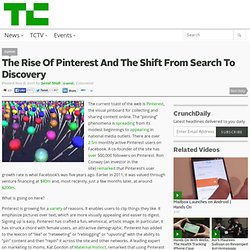 The current toast of the web is Pinterest, the visual pinboard for collecting and sharing content online. The "pinning" phenomena is spreading from its modest beginnings to appearing in national media outlets.
Pinterest is a social media site that allows us to categorize, connect and discover.
Friday Five: How Pinterest Transformed the Traditional Corkboard in a Digital Era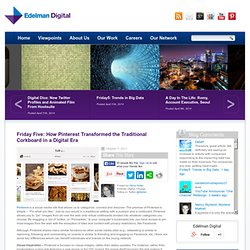 Pinterest Joins Twitter And Facebook As The Newest Self-Expression Engine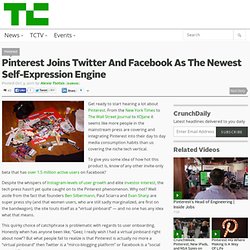 Get ready to start hearing a lot about Pinterest. From the New York Times to The Wall Street Journal to XOJane it seems like more people in the mainstream press are covering and integrating Pinterest into their day to day media consumption habits than us covering the niche tech vertical. To give you some idea of how hot this product is, know of any other invite-only beta that has over 1.5 million active users on Facebook?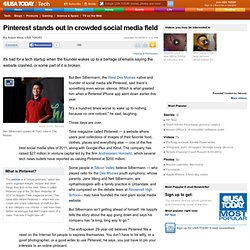 Pinterest stands out in crowded social media field
It's bad for a tech startup when the founder wakes up to a barrage of emails saying the website crashed, or some part of it is broken. But Ben Silbermann, the West Des Moines native and founder of social media site Pinterest, said there's something even worse: silence.