Career Advice
Congratulations Graduate! Eleven Reasons Why I Will Never Hire You. Law of Career Attraction: Get Seduced, Says Shelly Lazarus. OK, I Followed a Bunch of People on Twitter. Now Where is my Job Offer? - Vizualize.me's Blog. Why Facebook Could Land You a Job Faster Than LinkedIn (And How to Do It) One of my favorite jobs in college was working as a consultant for Microsoft.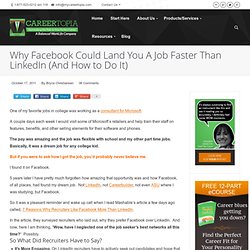 A couple days each week I would visit some of Microsoft's retailers and help train their staff on features, benefits, and other selling elements for their software and phones. The pay was amazing and the job was flexible with school and my other part time jobs. How To Start A Career In Social Media. Recently, the Chicago Tribune pinged me for a few quotes on how to start a career in social media.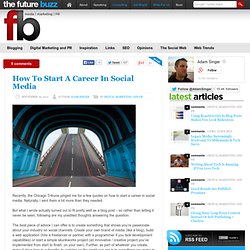 Naturally, I sent them a bit more than they needed. But what I wrote actually turned out to fit pretty well as a blog post – so rather than letting it never be seen, following are my unedited thoughts answering the question: 5 Social Media Tips for Scoring Your Next Job. Marc Hoag, CEO and co-founder of Venturocket, is a California-licensed attorney with an econ degree from UCLA and a strong background in math and science.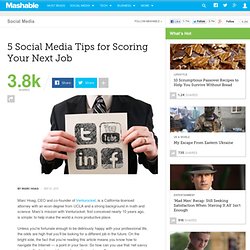 Marc's mission with Venturocket, first conceived nearly 10 years ago, is simple: to help make the world a more productive place. Unless you're fortunate enough to be deliriously happy with your professional life, the odds are high that you'll be looking for a different job in the future. 5 Clever Ways to Get a Job Using Social Media. Dan Schawbel is the author of Me 2.0 and the founder of Millennial Branding, a full-service personal branding agency.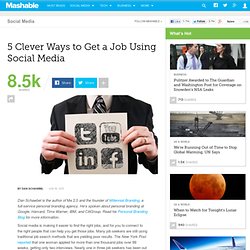 He's spoken about personal branding at Google, Harvard, Time Warner, IBM, and CitiGroup. Read his Personal Branding Blog for more information. Social media is making it easier to find the right jobs, and for you to connect to the right people that can help you get those jobs. HOW TO: Spruce Up a Boring Resume [INFOGRAPHIC] Writing a resume is such a nebulous activity these days.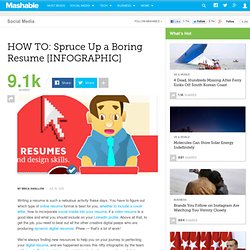 You have to figure out which type of online resume format is best for you, whether to include a cover letter, how to incorporate social media into your resume, if a video resume is a good idea and what you should include on your LinkedIn profile. Above all that, to get the job, you need to beat out all the other creative digital peeps who are producing dynamic digital resumes. Phew — that's a lot of work! Social media advice for job-seekers, from CEOs, HR execs & recruiters - Innovation Economy. Jennifer Ramcharan, Global Recruiter at TripAdvisor Appealing: LinkedIn: we like to see candidates who have filled in their profile completely.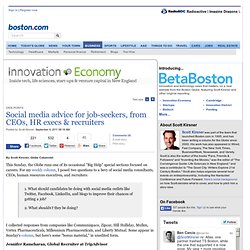 Examples: Upload your resume, if you are a blogger (and it is relevant to your career) post the link to your blog, update your profile as your role changes and make sure your professional headline accurately describes what you do and what you are hoping to do. Twitter: If you are going to use this site as a way to communicate with recruiters/companies, make sure your bio accurately describes your career and goals. As recruiters, we use Twitter directory tools to find candidates whose bios match our hiring needs. Do Job Boards Really Work? These days, there is a plethora of ways to look for a job, like social networking, going to professional events, or just being your own recruiter.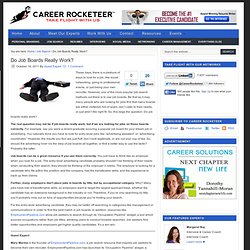 However, one of the more popular job search methods out there is to use job boards. Be that as it may, many people who are looking for jobs find that many boards are either cluttered, full of spam, don't cater to their needs, or just aren't the right fit. So, this begs the question: Do job boards really work?
The real question may not be if job boards really work, but if we are looking for jobs on those boards correctly. Informational Interviews: the Complete How-To | Great on the Job. Informational Interviews: the Complete How-To Guest Post by Annie Favreau Informational interviews are one of the best, most under-utilized career tools at our disposal.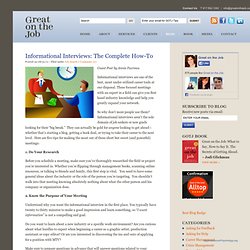 These focused meetings with an expert in a field can give you first hand industry knowledge and help you greatly expand your network. So why don't more people use them?
---