Advice
You Design It, They Do It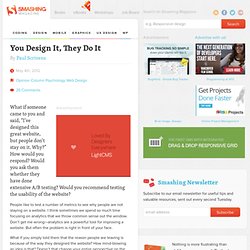 Advertisement What if someone came to you and said, "I've designed this great website, but people don't stay on it. Why?" How would you respond? Would you ask them whether they have done extensive A/B testing? Would you recommend testing the usability of the website?
When the Photo Doesn't Fit the Space: Tips and Tricks for Making It Work
You've been there a thousand times, staring at a big empty canvas that simply doesn't seem to work with the photo that the client has provided. Perhaps you have a vertical space and a horizontal photo (or vice versa), or maybe the image is simply too small to resize without unacceptable quality loss. What now? Today we'll go over some tricks of the trade and teach you how to cope with images that don't fit where you need them to.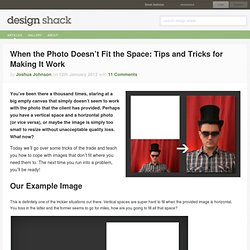 Best bits: Charity careers in social media | Voluntary Sector Network | Guardian Professional
We collate our experts' advice on how you can secure a job in charity social media. Photograph: Chris Jackson/Getty Images Kate Maunder, senior consultant, TPP Not for Profit Take a portfolio to an interview: It's all about tangible examples on your CV – you have to be able to say that you have increased your Twitter followers from x to x. Lots of unemployed people are using their time to improve their skills and work on tangible examples of their work. NFPTweetup is an excellent event to attend to keep abreast of new developments in the social media field.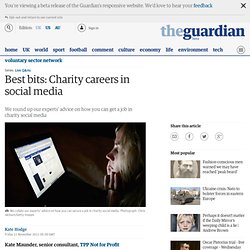 10 tips for brilliant brochures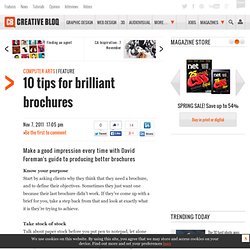 Make a good impression every time with David Foreman's guide to producing better brochures Know your purpose Start by asking clients why they think that they need a brochure, and to define their objectives. Sometimes they just want one because their last brochure didn't work.
Be sure to also check out our quiz on evaluating your portfolio site's effectiveness. As the curator of Folyo, I see a lot of different portfolios go by. And I can't help but notice the same patterns of bad design cropping up time and again. Being designers, we should be aware of how much look and feel can influence the way content is perceived.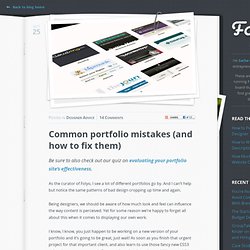 Common portfolio mistakes (and how to fix them) | Folyo Blog
Five web design clichés to never use again
Keith Butters, chief experience officer and co-founder of The Barbarian Group, lists his top five web design clichés that he would like to never see on the internet again Disclaimer: I make no apologies if this reads like an early-80's Andy Rooney bit from 60 Minutes: "What I really hate about all these phone books is…" There are certain things I see over and over again in this business that make me cringe like I've been forced to chew on a tinfoil sandwich. Like the wireframe that's nothing but a big rectangle with three equally-sized rectangles underneath it – "There's your homepage" – or any other kinds of design that come from utter lack of inspiration.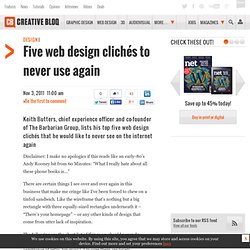 You are a brand. What you put out as your persona creates perception from others of what you are to them, or, in other words your "perceived value". We choose friends that way, but more importantly for job seekers, companies seek the best employees by assessing your brand. There is a real opportunity for us as 'brands' to create disproportionate value against our competition. If you are young and just starting to realize who you are, here is what it takes to prevail in these finicky times where social networking can be your biggest blessing or your biggest curse. Much like an organization is judged by its logo, its offices, and other physical manifestations, you are judged by your looks; just as an organization lives by a credo, or a mission you live by your morals and values; and just as an organization strategizes about the company they keep so too must you with the people you surround yourself with, or your "partners."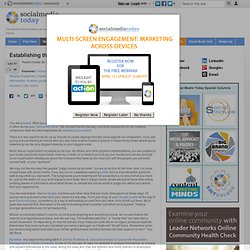 Establishing the Brand of YOU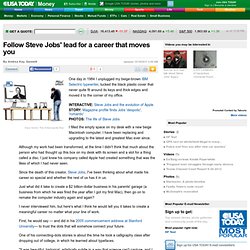 Follow Steve Jobs' lead for a career that moves you
One day in 1984 I unplugged my beige-brown IBM Selectric typewriter, tucked the black plastic cover that never quite fit around its keys and thick edges and moved it to the corner of my office. I filled the empty space on my desk with a new beige Macintosh computer. I have been replacing and upgrading to the latest and greatest Mac ever since. Although my work had been transformed, at the time I didn't think that much about the person who had thought up this box on my desk with its screen and a slot for a thing called a disc. I just knew his company called Apple had created something that was the likes of which I had never seen.
Posted on 16'11 Sep Posted on September 16, 2011 along with 16 JUST™ Creative Comments This is a guest article contributed by Richard Larson*. Tell your potential clients, not only do you design beautiful websites, you design websites that convert! Designers that make beautiful websites are everywhere. As a designer you need to demonstrate to your potential clients that not only do you create beautiful designs but your designs are carefully crafted marketing tools that convert potentially interested people into devoted customers. Doing this isn't easy but it will dramatically improve your business and more importantly it will improve your client's business.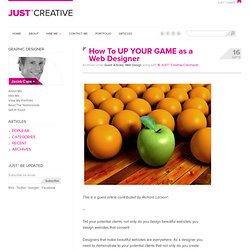 How To UP YOUR GAME as a Web Designer
There are now a lot of blogs about graphic design and if you are a graphic designer who still isn't blogging you could be missing out. There are a lot of reasons that designers should blog. If you want to set your own blog up you can download my free guide to setting up a WordPress blog (no email or sign up required) 1.
8 Reasons Why Designers Should Blog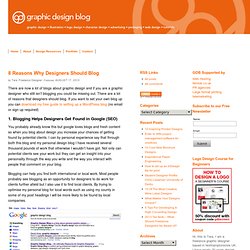 net magazine is the number one choice for the professional web designer and developer. It's here that you find out about the latest new web trends, technologies and techniques – all in one handy package. Each issue boasts a wealth of expert tips and advice, including in-depth features and over 30 pages of advanced front- and backend tutorials on subjects as diverse as CSS, HTML, JavaScript, WordPress, PHP, and plenty more. net compiles the hottest new sites from around the web, and being the voice of web design, our mission is to source the best articles written by the best people in the industry and feature interviews and opinions crammed with inspiration and creative advice.
Try these tactics next time your team needs a burst of creative energy. September 12, 2011 Have you ever had a brainstorming session that got stuck in low gear? We've all been there.
12 Tips To Jumpstart Your Next Brainstorming Session : Innovation
Six Solid Reasons Why You Should Use WordPress
If you think you know what WordPress is, and what is it used for, I still believe you need to give this article a read to get to know what WordPress is really capable of. Wikipedia defines WordPress as 'an open source blog tool and publishing platform powered by PHP and MySQL'. And indeed you are correct if you think that WordPress is one of those inexpensive and relatively easy ways to start a blog site, but WordPress has come a long way since it was only a 'Blogging Platform'. If you don't already know, there are two websites WordPress.com and WordPress.org which is because it has now reached a new mature level where it doesn't only support blogging (WordPress.com) but also can be used for other different website applications (WordPress.org). WordPress.org is actually a source it provides to those users who don't want to use WordPress.com to host their blog and want to host it themselves. But the story just doesn't end there with the blog installation.
Which Suits You Better? Blogger or WordPress?
Many bloggers ask me whether to chose Blogger or WordPress. Many others get confused for choosing the right one. So, this is the post which tells you which is the best for you!
Advertisement Editor's Note: You might want to read Nathan Yau's article The Do's And Don'ts Of Infographic Design: Revisited here on Smashing Magazine which is a response to this article. Since the dawn of the Internet, the demand for good design has continued to skyrocket. From Web 1.0 to Web 2.0 and beyond, designers have remained on their toes as they define the trends and expectations of our online universe.
20 Ways to Motivate Yourself
How Metrics Can Make You A Better Designer - Smashing UX Design
Ten Productivity Tips To Increase Your Work Day
The Keys to your creative career
What Clients Look for in a Designer
Tips in Designing a Great Brochure