Advice
You Design It, They Do It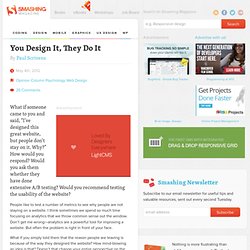 What if someone came to you and said, "I've designed this great website, but people don't stay on it. Why?"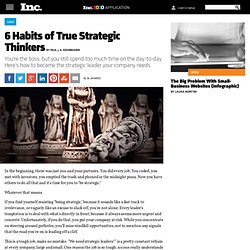 You're the boss, but you still spend too much time on the day-to-day.
When the Photo Doesn't Fit the Space: Tips and Tricks for Making It Work
You've been there a thousand times, staring at a big empty canvas that simply doesn't seem to work with the photo that the client has provided.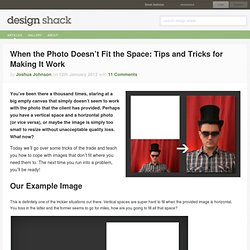 Best bits: Charity careers in social media | Voluntary Sector Network | Guardian Professional
We collate our experts' advice on how you can secure a job in charity social media. Photograph: Chris Jackson/Getty Images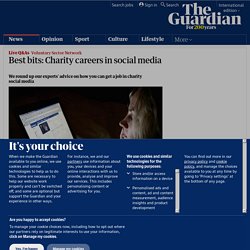 10 tips for brilliant brochures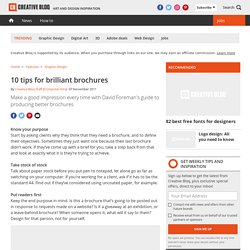 Know your purpose Start by asking clients why they think that they need a brochure, and to define their objectives.
Be sure to also check out our quiz on evaluating your portfolio site's effectiveness .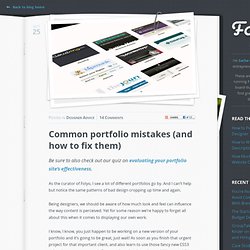 Common portfolio mistakes (and how to fix them) | Folyo Blog
Five web design clichés to never use again
Disclaimer: I make no apologies if this reads like an early-80's Andy Rooney bit from 60 Minutes: "What I really hate about all these phone books is…" There are certain things I see over and over again in this business that make me cringe like I've been forced to chew on a tinfoil sandwich.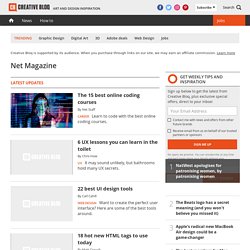 You are a brand . What you put out as your persona creates perception from others of what you are to them, or, in other words your " perceived value ".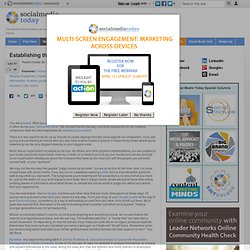 Establishing the Brand of YOU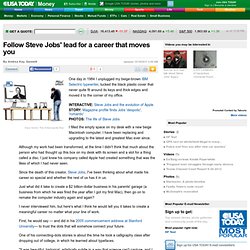 Follow Steve Jobs' lead for a career that moves you
One day in 1984 I unplugged my beige-brown IBM Selectric typewriter , tucked the black plastic cover that never quite fit around its keys and thick edges and moved it to the corner of my office.
Posted on 16 '11 Sep Posted on September 16, 2011 along with 13 JUST™ Creative Comments This is a guest article contributed by Richard Larson*.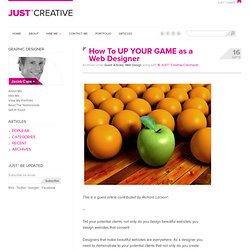 How To UP YOUR GAME as a Web Designer
8 Reasons Why Designers Should Blog
Attracting a potential customer is hard enough. Grabbing their interest and retaining them is even more difficult.
The importance of keeping clients happy
When it comes to requests for proposals (RFPs), everyone has an opinion. Some of us avoid them like the Republican Party avoids a debt compromise, while others flock to them. For my seven-person Washington DC-area creative firm, that's how we get most of our business.
Have you ever had a brainstorming session that got stuck in low gear?
12 Tips To Jumpstart Your Next Brainstorming Session : Innovation
Six Solid Reasons Why You Should Use WordPress
If you think you know what WordPress is, and what is it used for, I still believe you need to give this article a read to get to know what WordPress is really capable of. Wikipedia defines WordPress as ' an open source blog tool and publishing platform powered by PHP and MySQL '.
Which Suits You Better? Blogger or WordPress?
Many bloggers ask me whether to chose Blogger or WordPress . Many others get confused for choosing the right one. So, this is the post which tells you which is the best for you!
9 Ways to Get Your Design Portfolio Seen - Web Design Blog – DesignM.ag
20 Ways to Motivate Yourself
How Metrics Can Make You A Better Designer - Smashing UX Design
Ten Productivity Tips To Increase Your Work Day
The Keys to your creative career
What Clients Look for in a Designer
Tips in Designing a Great Brochure