Books
Well, At Least There Was Good Stuff to Read: The Books of the Decade | Books | The L Magazine - New York City's Local Event and Arts & Culture Guide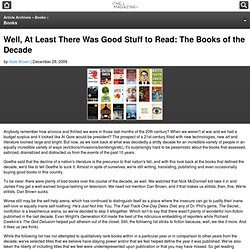 Anybody remember how anxious and thrilled we were in those last months of the 20th century? When we weren't at war and we had a budget surplus and it looked like Al Gore would be president? The prospect of a 21st century filled with new technologies, new art and literature loomed large and bright. But now, as we look back at what was decidedly a shitty decade for an incredible variety of people in an equally incredible variety of ways (evictions/invasions/bombings/etc), it's surprisingly hard to be pessimistic about the books that assessed, satirized, dramatized and distracted us from the events of the past 10 years. Goethe said that the decline of a nation's literature is the precursor to that nation's fall, and with this look back at the books that defined the decade, we'd like to tell Goethe to suck it.
10 Novels That Are Scarier Than Most Horror Movies
SExpand You can't do jump-scares in a book. There's no computerized special effects, or actors covered with gruesome makeup and KY jelly. You can always put a book down for a few days.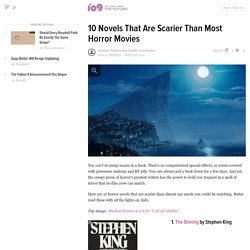 A List of Books | 623 of the Best Books Ever Written
We've moved beta.anobii.com has moved to eBooks by Sainsbury's UK readers You can login to your account with your Anobii username and password at www.sainsburysebooks.co.uk.
Must read books from the last decade
100 Must Read Books: The Man's Essential Library
Written by: Jason Lankow, Ross Crooks, Joshua Ritchie, and Brett McKay Photo by the nonist There are the books you read, and then there are the books that change your life. We can all look back on the books that have shaped our perspective on politics, religion, money, and love.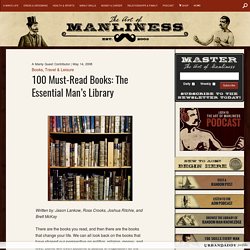 The Most Dangerous Novels Of All Time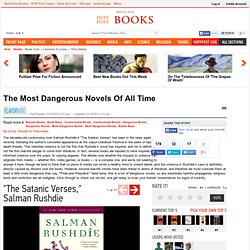 You may think this novel was only dangerous to Rushdie, but in fact more than 50 people died as a result of its publication -- or at least as a result of the extreme reaction of the Muslim community.
Free eBooks at Planet eBook - Classic Novels and Literature