Tutorials
Making a kilt. [From Bobbie Suttie, images copyright Jan Bruyndonckx and used with permission] A Kilt is basically a pleated, wrapped skirt.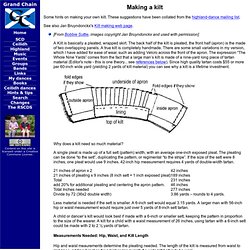 The back half of the kilt is pleated, the front half (apron) is the made of two overlapping panels. A true kilt is completely handmade. There are some small variations in my version, which I have added for ease of wear, such as adding Velcro across the front of the apron. Kilt with Sash. How to Make a Babydoll Nightie Dress from 2 Men's Shirts. *2 men's button-down shirts in coordinating colors (I used size 16 - I think that's an L, but I recommend using an XL if you are a S/M Misses'...or an XXL if you are L/XL Misses.')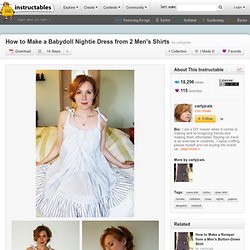 *thread matching topstitching thread in shirts *23" of 3/4" wide flat elastic (white) *110" elastic cord (white)...we'll be gathering fabric so only about 36" will be used eventually, but you need a longer length to do the gathering properly. *sewing machine *needle for wovens *fabric scissors *seam ripper *iron (optional) *1 safety pin. Hands-free book pillow. On your fabric, measure out two squares.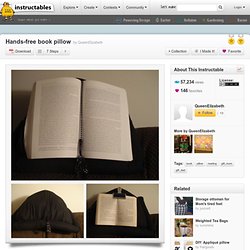 One square needs to be 26x26 and the other needs to be 22x22. Mark your squares in chalk and cut. If you don't want to mark them, you can cut the squares out of newspaper and pin them on the fabric, then cut carefully around them. On the larger of the two squares, measure 6 inches in from the outside edges, and mark as shown in the pictures below. You'll end up with four rectangles. Hooded Baby Towel. I'm sharing this tutorial under one condition.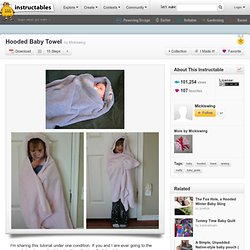 If you and I are ever going to the same baby shower, I get to give them the towel! Wink, wink I like these so much better than most store bought baby towels. Keyboard Cat. So, we're going to make the geekiest wrist rest your desk has ever seen, in a few easy steps.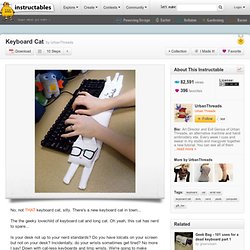 It's comfy enough for any computer, and dorky enough for lolcat lovers, meme-followers, and nerds of all flavor. The kitty rest we're going to make is like longcat's long-lost cousin or the nerdy programmer sibling of keyboard cat. Fur and Suede Winter cloak. Twirly Skirt Tutorial. What little girl doesn't love a good, twirling skirt?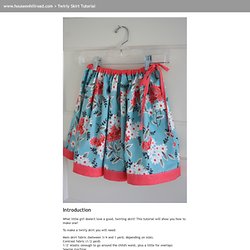 This tutorial will show you how to make one! To make a twirly skirt you will need: Main skirt fabric (between 3/4 and 1 yard, depending on size). Contrast fabric (1/2 yard) 1/2" elastic (enough to go around the child's waist, plus a little for overlap) Sewing machine Scissors or rotary cutter and mat Ruler Thread to match Pinking shears (optional) Safety pin This tutorial is meant for personal use. Burlesque Bustle Skirt. This is the pattern I created to make my bustle skirt.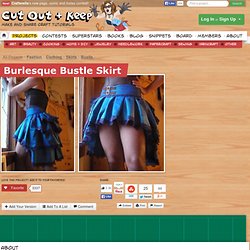 You can use it as is, or change it up a little. These instructions are super detailed, I'm basically walking you through what I learned along the way, so skip ahead if you're comfortable with some of these steps. Decide where you want the waistband to sit - at your waist or hips, and measure that circumference + add a little bit for seams. I wanted mine closer to my hips and I wanted to use a tab-over belt-like closure to make it adjustable and add a little rustic flare, so I added a few inches to my hip measurement (42"). If you want to use a zipper or something else, you won't want to add that extra tab. Starmoss: Doo.Ri Tights. What you'll need: Patterend lace tights (or leggings), very thin needle, thread, scissors, and a set of beads varying from sizes to colours to shapes.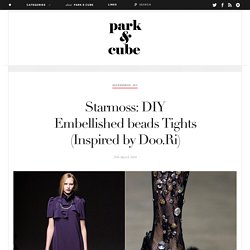 I chose two neutral colours (white and cream/gold), one complimentary (blue), one pot of sequin for the sparkle and a satin pearl pot for texture. Wearing the tights will be the easiest way to apply the beads. Find a patch on the lace where the texture is heavier (on the pattern – the weave is stronger there and should hold the beads better), and slide needle through where you want to start. (Please excuse my chipped nails) HAND EMBROIDERY FROM SADALAS.... Another Mexican Peasant Blouse/Dress « Nicely Done. May 14, 2008 by redpajamamama This dress is very different from the older blouse.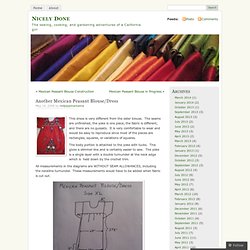 The seams are unfinished, the yoke is one piece, the fabric is different, and there are no gussets. How to Make a Duct Tape Rose. Rostitchery: make-your-own clothing labels. Ella started preschool a few weeks ago, and i guess all other parents knew this but it was news to me that preschoolers need a lot of stuff. :) one thing we were asked to do is to make sure all her things are clearly labeled, including the spare clothes in her cubby and the things in her emergency bag (more on that in another post). to make clothing labels, i printed out her name and a contact phone number on sheets of fabric that i had treated with bubble jet set 2000.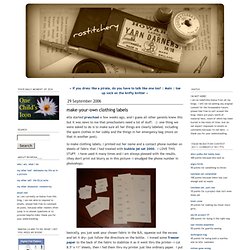 I LOVE THIS STUFF. i have used it many times and i am always pleased with the results. Usako's sewing stadio. The Layer Cake Crinoline: A Multimedia Tutorial! Here's how to use this tutorial: 1. Watch the video for an introduction.2. Make a wish tutorial I - the ominous pencil skirt. How to make your own drawers. Well folks I think I have been talkin' about this tutorial for about a year, so I finally pulled it out. There are millions( ok maybe not millions, but a whole heck of a lot) of variations and add ons but I was trying to do the simplest one first.
Materialsthreadsewing machine1 yd stretch elastic or fold over elasticpaper for pattern(paper bag or newspaper)scissorsold t shirt or any knit materialpair of underwear to cut and make pattern from Make your knickers !! 1. Cut or fold your undies so you can make your pattern. Fabric Clothing Tags. Sketch the image or text onto the carving block.
Remember that due to the nature of stamping the image needs to be reversed in order to print correctly. Draw or write gently on the speedy carve. If you press too hard you will dig into the rubber. I used a sharpie marker because it glides well on the rubber. How to sew a fagoted seam.
---