Christ Centered sites
Daily Text Devotionals · Max Lucado. Trust the Cross My dog Salty knows he isn't supposed to get into the trash.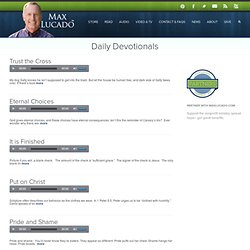 But let the house be human free, and dark side of Salty takes over. If there's food more Eternal Choices God gives eternal choices, and these choices have eternal consequences. Chuck Colson Center Online Store. Christian Living Resources, Jesus Christ, Bible Study, Faith in God. Living on the Edge - Mobile Site. AuthenticPart08. PrayingBoldlyForOurKids.
---