Unhealthy relationship
Why our relationships fail - Robin S. Cohen, Ph.D. How do we first begin to experience love?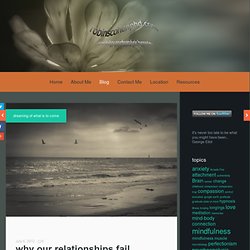 Perhaps as babies, as early psychoanalysts Fairbairn and Guntrip believed, the only way we could feel loved was by having our needs met. The language of bodily transformation was the language of love. Mommy feeds us, changes our diaper or picks us up and we feel satisfied. This feeling of satisfaction and security may be the early equivalent to feeling loved. Manipulation News, Videos, Reviews and Gossip - Lifehacker. Manipulation News, Videos, Reviews and Gossip - Lifehacker. Emotion vs.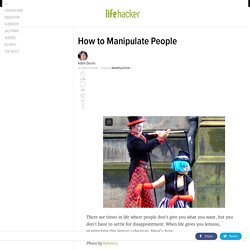 Logic: "The easiest way to manipulate people—especially Americans—" Usually true and this makes me sad. Manipulation News, Videos, Reviews and Gossip - Lifehacker. This is really more of a side effect of the way that computer sales work.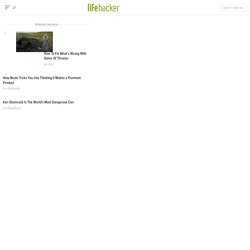 As a computer salesman, my goal is to pair you with a computer that (a) you'll be able to use to accomplish everything you want to do with a computer, including things you weren't thinking about (games, netflix) but that you'll use the thing for anyway, (b) that is capable of running things that your workplace / school will require of you, and also (c) that fits into your lifestyle well enough that it's something you'll be happy to keep using. If I fail at this job, two things will happen. Manipulation News, Videos, Reviews and Gossip - Lifehacker. @septentriones: Haha, what you're saying is actually quite indeed close to correct, though there is a bit more.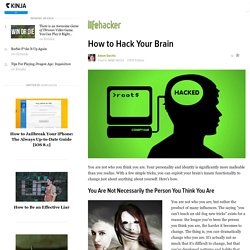 We are a culmination of our experiences, but that doesn't mean that our minds cannot advance further than that, for all that is required is the idea of an experience, for example, I have never been sledding down a mountain. However, I can imagine a sled, imagine a mountain, and myself in motion, so I can build the idea of the experience. Controversy. Top 10 Conversation Hacks. How to detect bullshit. By Scott Berkun, August 9, 2006 Everyone lies: it's just a question of how, when and why.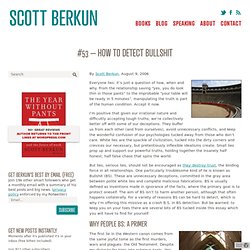 From the relationship saving "yes, you do look thin in those pants" to the improbable "your table will be ready in 5 minutes", manipulating the truth is part of the human condition. Accept it now. I'm positive that given our irrational nature and difficultly accepting tough truths, we're collectively better off with some of our deceptions. They buffer us from each other (and from ourselves), avoid unnecessary conflicts, and keep the wonderful confusion of our psychologies tucked away from those who don't care.
Knowing When to Walk Away from Unrequited Love. "Love does not obey our expectations; it obeys our intentions."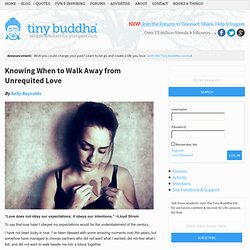 ~Lloyd Strom To say that love hasn't obeyed my expectations would be the understatement of the century. If you want me, then fight for me because i'm done fighting… | quotes_lyrics44 on Xanga. 15 Styles of Distorted Thinking. Micro Expressions - Research, Theory & Lying. Interesting Info -> Lying Index & Body Language -> Micro Expressions Is the show "Lie to Me" for real?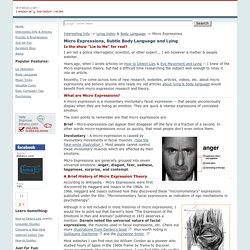 I am not a police interrogator, scientist, or other expert... I am however a mother & people watcher. Relationships. Body Language and Conversation. The Neuroscience of Relationship Breakups. "...Loves me, loves me not" An unexpected and unwanted breakup can cause considerable psychological distress.
People report feeling as if they have been kicked in the stomach or blindsided and knocked down. Feelings of rejection and self-doubt are common, as is the feeling of being stuck and unable to let go, even when one wants to. Friends and family may push the person to get over it and move on, yet brain research suggests this can be very difficult to do, at least in the first few months.
Defense Mechanisms. Defense mechanisms are automatic psychological processes that protect an individual from anxiety and the awareness of internal or external threats or stressors.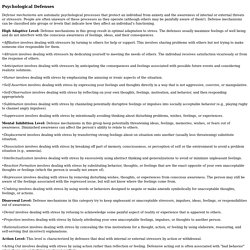 People are often unaware of these processes as they operate (although others may be painfully aware of them!). Defense mechanisms can be classified into groups or levels that indicate how they affect an individual's functioning. How to Detect Lies - body language, reactions, speech patterns. Interesting Info -> Lying Index -> How to Detect Lies Become a Human Lie Detector (Part 1) Warning: sometimes ignorance is bliss.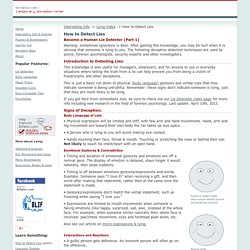 After gaining this knowledge, you may be hurt when it is obvious that someone is lying to you. The following deception detection techniques are used by police, forensic psychologists, security experts and other investigators. Introduction to Detecting Lies: Eight Ways to Spot Emotional Manipulation. 1) There is no use in trying to be honest with an emotional manipulator. You make a statement and it will be turned around. Example: I am really angry that you forgot my birthday. Brain Difference In Psychopaths Identified. Professor Declan Murphy and colleagues Dr Michael Craig and Dr Marco Catani from the Institute of Psychiatry at King's College London have found differences in the brain which may provide a biological explanation for psychopathy. The research investigated the brain biology of psychopaths with convictions that included attempted murder, manslaughter, multiple rape with strangulation and false imprisonment.
Using a powerful imaging technique (DT-MRI) the researchers have highlighted biological differences in the brain which may underpin these types of behaviour and provide a more comprehensive understanding of criminal psychopathy. Dr Michael Craig said: 'If replicated by larger studies the significance of these findings cannot be underestimated. 5 Douchebag Behaviors Explained by Science. There are men whose very appearance can compel you to turn your head in disgust, muttering the word "douche" in a long whisper.
They're flexing in their skin-tight t-shirt, invading women's personal space at the bar and going on and on about their goddamn promotion. For all the times you've muttered, "What's the deal with that douchebag? " science has actually taken the time to answer what was probably a rhetorical question. How to handle a break-up online. Etiquette in today's digital world can be tricky. Andrea Bartz, left, and Brenna Ehrlich are here to help. Andrea Bartz and Brenna Ehrlich are CNN.com's "netiquette" columnists Here's how to avoid reminders of your bad break-up while online Consider blocking exes on sites like Twitter, Foursquare or Facebook Editor's note: Brenna Ehrlich and Andrea Bartz are the sarcastic brains behind humor blog and soon-to-be-book Stuff Hipsters Hate.
When they're not trolling Brooklyn for new material, Ehrlich works as a news editor at Mashable.com, and Bartz holds the same position at Psychology Today. (CNN) -- So you've had your heart ripped from your chest -- the left ventricle cleaved from the right. Eight Ways to Spot Emotional Manipulation.
---