Unhealthy relationship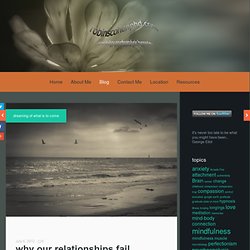 why our relationships fail - Robin S. Cohen, Ph.D.
How do we first begin to experience love? Perhaps as babies, as early psychoanalysts Fairbairn and Guntrip believed, the only way we could feel loved was by having our needs met. The language of bodily transformation was the language of love. Mommy feeds us, changes our diaper or picks us up and we feel satisfied. This feeling of satisfaction and security may be the early equivalent to feeling loved.
Getting something for free can be a wonderful thing under the right circumstances, but it also has the power to influence the way you think in unfortunate ways. Dan Ariely, author of Predictably Irrational, has studied the power of free in various ways. The findings always seem to point to one thing: foolish and/or irrational decisions. Photo by Jhong Dizon In a recent experiment, Dan and his team offered free tattoos to people in a night club. 76 people signed up for free tattoos, the average age was 26, and the average level of drunkenness was pretty low (2.64 on a scale of 1 to 11).
Manipulation News, Videos, Reviews and Gossip - Lifehacker
There are times in life where people don't give you what you want, but you don't have to settle for disappointment. When life gives you lemons, manipulate the lemon salesman. Here's how.
Manipulation News, Videos, Reviews and Gossip - Lifehacker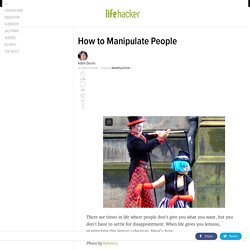 If you've ever been convinced by a salesperson that you truly wanted a product, done something too instinctively, or made choices that seemed entirely out of character, then you've had an idea planted in your mind. Here's how it's done. Note: We've gotten a lot of emails about how to do this in specific situations.
Manipulation News, Videos, Reviews and Gossip - Lifehacker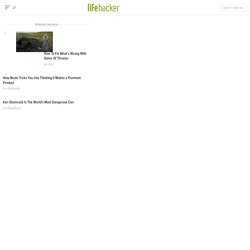 Manipulation News, Videos, Reviews and Gossip - Lifehacker
I've been doing this sort of thing since I was a freshman in highschool; I used to be a super shy person that didn't talk to anyone, currently I'm a shy person that doesn't really care about anything, thinks he has the capacity to do absolutely anything with limitless potential yet still amounts to nothing as there's always someone better (psychological trick to improve capabilities faster) and is far more social than ever. ;D I just find it easier to teach myself that I truly don't exist, I'm simply what I want to be whilst influenced by the knowledge I have.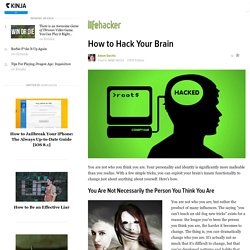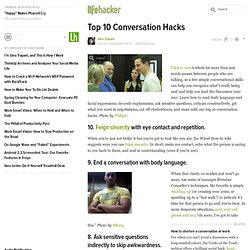 Top 10 Conversation Hacks
SExpand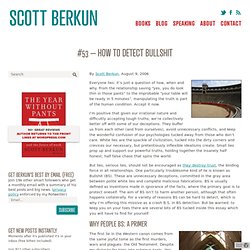 By Scott Berkun, August 9, 2006 Everyone lies: it's just a question of how, when and why. From the relationship saving "yes, you do look thin in those pants" to the improbable "your table will be ready in 5 minutes", manipulating the truth is part of the human condition. Accept it now. I'm positive that given our irrational nature and difficultly accepting tough truths, we're collectively better off with some of our deceptions. They buffer us from each other (and from ourselves), avoid unnecessary conflicts, and keep the wonderful confusion of our psychologies tucked away from those who don't care.
How to detect bullshit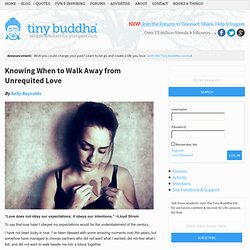 "Love does not obey our expectations; it obeys our intentions." ~Lloyd Strom To say that love hasn't obeyed my expectations would be the understatement of the century.
Knowing When to Walk Away from Unrequited Love
if you want me, then fight for me because i'm done fighting… | quotes_lyrics44 on Xanga
15 Styles of Distorted Thinking
Micro Expressions - Research, Theory & Lying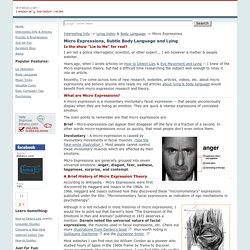 Interesting Info -> Lying Index & Body Language -> Micro Expressions
Body Language and Conversation
The Neuroscience of Relationship Breakups
"...Loves me, loves me not"
Defense mechanisms are automatic psychological processes that protect an individual from anxiety and the awareness of internal or external threats or stressors. People are often unaware of these processes as they operate (although others may be painfully aware of them!). Defense mechanisms can be classified into groups or levels that indicate how they affect an individual's functioning.
Defense Mechanisms
Interesting Info -> Lying Index -> How to Detect Lies Become a Human Lie Detector (Part 1)
How to Detect Lies - body language, reactions, speech patterns
1) There is no use in trying to be honest with an emotional manipulator. You make a statement and it will be turned around. Example: I am really angry that you forgot my birthday.
Eight Ways to Spot Emotional Manipulation
Aug. 5, 2009 — Professor Declan Murphy and colleagues Dr Michael Craig and Dr Marco Catani from the Institute of Psychiatry at King's College London have found differences in the brain which may provide a biological explanation for psychopathy.
Brain Difference In Psychopaths Identified
5 Douchebag Behaviors Explained by Science
How to handle a break-up online
Eight Ways to Spot Emotional Manipulation