Gasoline
U.S. Greenhouse Gas Inventory - 2009 U.S. Greenhouse Gas Invento. EPA develops an annual report called the Inventory of U.S.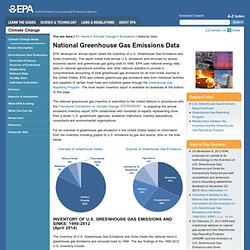 Greenhouse Gas Emissions and Sinks (Inventory). This report tracks total annual U.S. emissions and removals by source, economic sector, and greenhouse gas going back to 1990. EPA uses national energy data, data on national agricultural activities, and other national statistics to provide a comprehensive accounting of total greenhouse gas emissions for all man-made sources in the United States. Greenhouse Gas Inventory Data. US Gas Prices. PowerMeter. We launched Google PowerMeter as a free energy monitoring tool to raise awareness about the importance of giving people access to their energy information.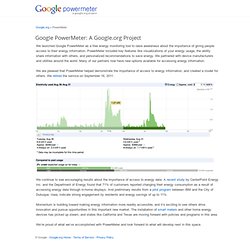 PowerMeter included key features like visualizations of your energy usage, the ability share information with others, and personalized recommendations to save energy. We partnered with device manufacturers and utilities around the world. Many of our partners now have new options available for accessing energy information. We are pleased that PowerMeter helped demonstrate the importance of access to energy information, and created a model for others.
---