Carbon_calculator
Measuring to Manage: A Guide to Designing GHG Accounting and Rep. As concern about climate change climbs to unprecedented levels, one of the most important steps that a country, region, or state can take to address it is to establish a sound and credible platform to account for and report greenhouse gas (GHG) emissions from corporations.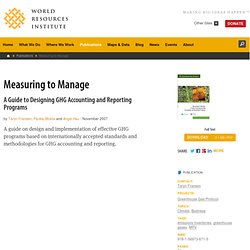 Over the past decade, many efforts to design and implement programs to promote the measurement and management of corporate GHG emissions have emerged around the world. These programs are being developed at different geographic scales – including national, regional, state or provincial, and municipal – and support different functions – such as voluntary reporting of GHG emissions, GHG regulatory systems, and tracking progress towards GHG reduction targets – but all are based on a corporate-level GHG accounting and reporting platform. As such, a common set of questions arises regarding their design and implementation: What type of GHG program is needed to meet which objectives?
The 15 best carbon calculators. A basic carbon calculator offers a ballpark figure of a person's, business's or household's "carbon footprint" — that is, all the greenhouse gases emitted either directly or on one's behalf.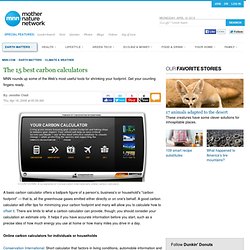 A good carbon calculator will offer tips for minimizing your carbon footprint and many will allow you to calculate how to offset it. There are limits to what a carbon calculator can provide, though; you should consider your calculation an estimate only. It helps if you have accurate information before you start, such as a precise idea of how much energy you use at home or how many miles you drive in a day. Online carbon calculators for individuals or households. Carbon Footprint Calculator - What's My Carbon Footprint ?
---