Paper Folding
How to Make an Origami Boomerang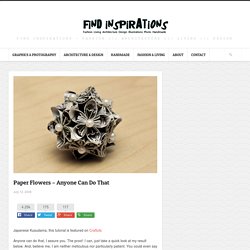 Japanese Kusudama , this tutorial is featured on Craftuts Anyone can do that, I assure you. The proof: I can, just take a quick look at my result below. And, believe me, I am neither meticulous nor particularly patient.
How To: Crazy paper airplane
How to Make an Origami Boomerang
Foldable Scrapbook How-To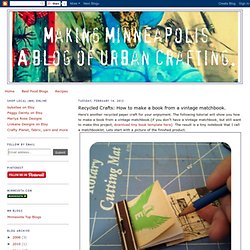 Recycled Crafts: How to make a book from a vintage matchbook.
Here's another recycled paper craft for your enjoyment. The following tutorial will show you how to make a book from a vintage matchbook.(if you don''t have a Vintage matchbook, but still want to make this project, download tiny book template here ) The result is a tiny notebook that I call a matchbooklet. Lets start with a picture of the finished product. Things you need for this project, Vintage matchbook scrap paper scissors or exacto knife thumb tack strong thread (I used upholstery thread) sewing needle dab of glue (optional) First thing you need to do is take the matches out of your matchbook.
book making
Oooh, all the nifty and thrifty things you can create from old newspaper! This time I decided to weave them into a little basket. It turned out to actually be pretty sturdy, despite the flimsy newspaper pages. Materials you'll need: