Asus Nvidia
Gráficas híbridas Nvidia Optimus en Ubuntu. Los nuevos procesadores Intel (I3, I5 e I7) traen integrados una gáfica Intel, que para la mayoría de los casos es más que suficiente para correr cualquier aplicación 3D en Ubuntu y además disponemos de un controlador libre más que respetable.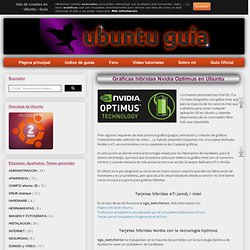 Pero algunos requieren de más potencia gráfica (juegos, animación y creación de gráficos tridimensionales, editores de vídeo, ...) y habrán adquirido máquinas con una tarjeta dedicada Nvidia o ATI, encontrándose con la coexistencia de 2 tarjetas gráficas. En este punto es donde entra la tecnología creada por los fabricantes de Hardware, para el ahorro de Energía, que hace que el sistema utilice por defecto la gráfica Intel con un consumo mínimo y cuando necesita de más potencia entra en acción la tarjeta dedicada ATI o Nvidia. Asus_U36SD. How to get your ASUS U36SD running Ubuntu GNU/Linux.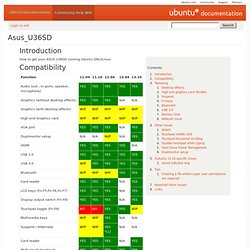 YES - Works out of the box WIP - Works or works partly with some tweaking NO - No known fix (so far) N/A - Not tested # just some U36SD models *[1] Works out of the box from 3.2.0-25-generic. Bumblebee 3.0 for Ubuntu 12.04 and 11.10. The bumblebee project has successfully released an 'optimus replacement' for the linux platform.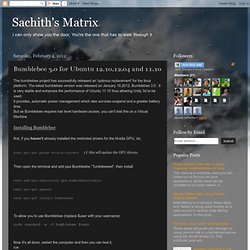 The latest bumblebee version was released on January 19,2012, Bumblebee 3.0 . It is very stable and enhances the performance of Ubuntu 11.10 thus allowing Unity 3d to be used. it provides, automatic power management which also survives suspend and a greater battery time. But as Bumblebee requires low level hardware access, you can't test this on a Virtual Machine. Optimus on Linux Problem Solved | Martin Juhl's Blog. Hi all..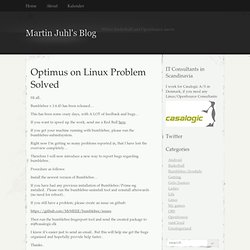 Bumblebee v.1.6.43 has been released… This has been some crazy days, with A LOT of feedback and bugs… If you want to speed up the work, send me a Red Bull here. Nvidia Optimus en tu portatil con Linux instalando Bumblebee. Qué es Nvidia Optimus?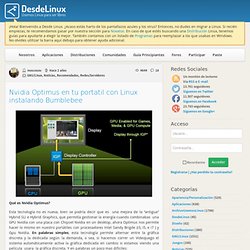 Esta tecnología no es nueva, bien se podría decir que es una mejora de la "antigua" Hybrid SLI e Hybrid Graphics, que permitía gestionar la energía cuando combinabas una GPU Nvidia con una placa con Chipset Nvidia en un desktop, ahora Optimus nos permite hacer lo mismo en nuestro portátiles con procesadores Intel Sandy Brigde (i3, i5, e i7 ) y Gpu Nvidia. En palabras simples, esta tecnología permite alternar entre la gráfica discreta y la dedicada según la demanda, o sea, si hacemos correr un Videojuego el sistema automáticamente activa la gráfica dedicada en cambio si estamos viendo una película usara la gráfica discreta. Y en palabras un poco mas difíciles: My GeForce GT 520 isn't recognised. Nvidia Geforce GT 520M (Display Driver)on ubuntu 11.10.
Help Advanced Search Page 1 of 3 123 Last.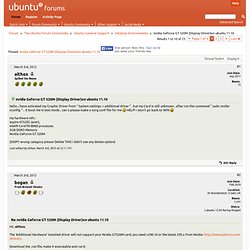 How to Install it via PPA on Ubuntu 12.04, 11.10 and Linux Mint 12, 11, GNU/Linux ~ Geeks Sharing Space. Introduction Nvidia is an American global technology company based in Santa Clara, California.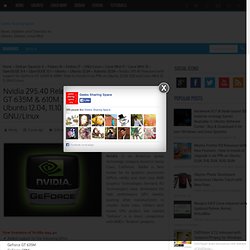 Nvidia is best known for its graphics processors (GPUs). nVidia and chief rival AMD Graphics Technologies (formerly ATI Technologies) have dominated the high performance GPU market, pushing other manufacturers to smaller, niche roles. nVidia's best known GPU product line labeled "GeForce" is in direct competition with AMD's "Radeon" products. New Features of Nvidia 295.40. Bumblebee. Bumblebee aims to provide support for NVIDIA Optimus laptops for GNU/Linux distributions.
Using Bumblebee, you can use your NVIDIA card for rendering graphics which will be displayed using the Intel card. Bumblebee is officially supported by Ubuntu in 13.10 Saucy or newer. However, all releases are supported by the Bumblebee Project community from Ubuntu version 12.04 up to 13.10. Installation.
---