Books & Such
You Are Tired (I Think) by ee cummings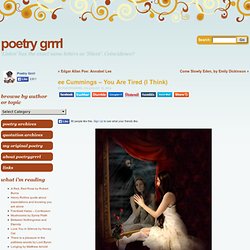 by PoetryGrrrl on November 25, 2013 You Are Tired (I Think) You are tired, (I think) Of the always puzzle of living and doing; And so am I.
Project Gutenberg's Fifteen Thousand Useful Phrases, by Greenville Kleiser This eBook is for the use of anyone anywhere at no cost and with almost no restrictions whatsoever. You may copy it, give it away or re-use it under the terms of the Project Gutenberg License included with this eBook or online at www.gutenberg.org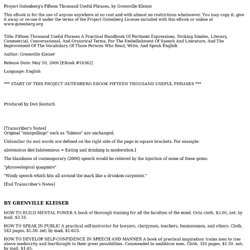 unnamed pearl
In compiling the books on this list, the editors at SuperScholar have tried to provide a window into the culture of the last 50 years. Ideally, if you read every book on this list, you will know how we got to where we are today. Not all the books on this list are "great." The criterion for inclusion was not greatness but INFLUENCE. All the books on this list have been enormously influential. The books we chose required some hard choices.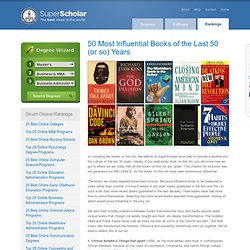 50 Most Influential Books of the Last 50 (or so) Years
the-holstee-manifesto1.jpg (JPEG Image, 600 × 803 pixels) - Scaled (65%)
Dreams-Meaning-Infographic.jpg (JPEG Image, 630 × 1350 pixels)
100 Most beautiful words in the English language*
A new way of choosing what to read next
How Life Works
100 Books Everybody Should Read
80 Journal Writing Prompts | TomSlatin.com
Book recommendations for people who like The Dark Queen by Susan Carroll
The Dystopian Timeline To The Hunger Games [INFOGRAPHIC]