Books & Such
You Are Tired (I Think) by ee cummings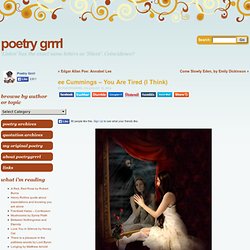 by PoetryGrrrl on March 14, 2013 Sponsored Ads do not necessarily reflect the views of PoetryGrrrl You Are Tired (I Think)
Project Gutenberg's Fifteen Thousand Useful Phrases, by Greenville Kleiser This eBook is for the use of anyone anywhere at no cost and with almost no restrictions whatsoever. You may copy it, give it away or re-use it under the terms of the Project Gutenberg License included with this eBook or online at www.gutenberg.org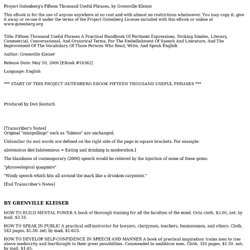 unnamed pearl
In compiling the books on this list, the editors at SuperScholar have tried to provide a window into the culture of the last 50 years. Ideally, if you read every book on this list, you will know how we got to where we are today. Not all the books on this list are "great." The criterion for inclusion was not greatness but INFLUENCE. All the books on this list have been enormously influential . The books we chose required some hard choices.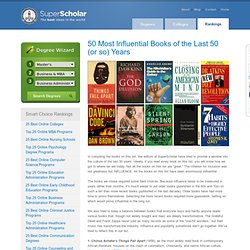 A new way of choosing what to read next
100 Books Everybody Should Read
Book recommendations for people who like The Dark Queen by Susan Carroll
The Dystopian Timeline To The Hunger Games [INFOGRAPHIC]
Goodreads Blog: Dystopian fiction is more popular than it has been in more than 50 years. Whether it's the result of political turmoil, global financial crises, or other anxieties, readers are craving books about ruthless governments and terrifying worlds. The new breed of dystopian novels combines classic dystopian themes of cruel governments and violent, restrictive worlds with a few new twists—badass heroines and romance.