Communities devlopment
Getting started in the Facilitating Online Communities course (N
21st Century Learning: The Art of Building Virtual Communities (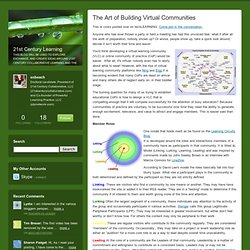 This is cross posted over on techLEARNING. Come join in the conversation. Anyone who has ever thrown a party or held a meeting has had this unvoiced fear: what if after all the work of preparation, nobody shows up? Or worse, people show up, take a quick look around, decide it isn't worth their time and leave!
blogosphère et neo structuralisme? by didier33 Jun 12
Relations entre structure d'un réseau, efficacité et démocratie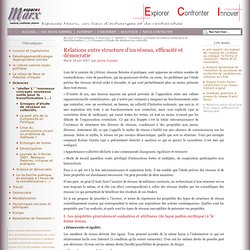 Lors de la journée du 3 février, réseaux théories et pratiques, sont apparues un certain nombre de contradictions, voire de paradoxes, qui me paraissent révéler, en creux, les problèmes que l'étude précise des réseaux devrait aider à résoudre, et qui sont probablement plus ou moins présents dans tout réseau. • D'entrée de jeu, une tension majeure me paraît provenir de l'opposition entre une culture organisationnelle centralisatrice, qui n'arrive pas vraiment à imaginer un fonctionnement autre que centralisé, avec un secrétariat, un bureau, un collectif d'Initiative nationale, que sais-je, et une aspiration très forte à un fonctionnement non centralisé, mais non explicité (que je caractérise donc de mythique), qui aurait toutes les vertus, ou tout au moins n'aurait pas les défauts de l'organisation centralisée. Ce qui m'a frappée c'est la totale méconnaissance de l'existence de structures très diverses de réseaux, conduisant à des propriétés non moins diverses.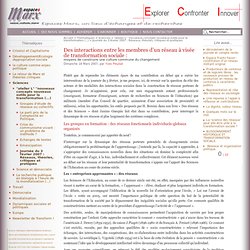 Des interactions entre les membres d'un réseau à visée de transf
Plutôt que de reprendre les éléments épars de ma contribution au débat qui a suivie les interventions de la journée du 3 février, je me propose, ici, de revenir sur la question du rôle des acteurs et des modalités des interactions sociales dans la construction de réseaux porteurs de changement. Je m'appuierai, pour cela, sur mes engagements autant professionnels (enseignant, formateur d'enseignant, acteurs de recherches en Sciences de l'éducation) que militants (membre d'un Conseil de quartier, animateur d'une association de proximité) et utiliserai, selon les opportunités, les outils proposés par H. Bersini dans son livre « Des réseaux et des Sciences » dont Janine Guespin fait état dans sa contribution, pour interroger la dynamique de ces réseaux et plus largement des systèmes complexes. Les groupes en formation : des réseaux fonctionnels individuels-globaux organisés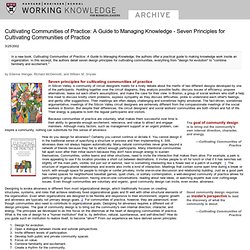 In a new book, Cultivating Communities of Practice: A Guide to Managing Knowledge, the authors offer a practical guide to making knowledge work inside an organization. In this excerpt, the authors detail seven design principles for cultivating communities, everything from "design for evolution" to "combine familiarly and excitement." by Etienne Wenger, Richard McDermott, and William M. Snyder Seven principles for cultivating communities of practice In Silicon Valley, a community of circuit designers meets for a lively debate about the merits of two different designs developed by one of the participants.
Ton Zijlstra