Digital infrastructure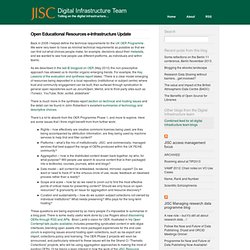 Back in 2008 I helped define the technical requirements for the UK OER Programme . We were very keen to have as minimal technical requirements as possible so that we can find out what choices people make, for example, decisions about their metadata , and we wanted to see how people use different platforms, as individuals and within teams. As we described in the last IE blogpost on OER (May 2010) the non-prescriptive approach has allowed us to monitor organic emerging trends.
Open Educational Resources e-Infrastructure Update : Information Environment Team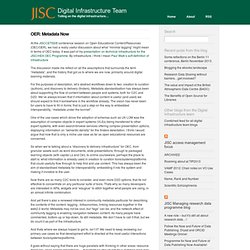 OER: Metadata Now : Information Environment Team
At the JISCCETIS08 conference session on Open Educational Content/Resources (OEC/OER), we had a really useful discussion about what "minimal tagging" might mean in terms of OEC today. It was part of my presentation on technical infrastructure for the JISC/HEA OEC Programme . By infrastructure, I think I mean Paul Walk's soft definition of infrastructure The discussion made me reflect on all the assumptions that surrounds the term "metadata", and the history that got us to where we are now, primarily around digital learning materials. For the purposes of description, let's abstract workflows down to two: creation to curation (authors), and discovery to delivery (finders).
One to Many; Many to One: The resource discovery taskforce vision
Jorum Explaining RSS News Feeds
Xpert labs
Xpert contains metadata and resources for almost 150,000 learning objects from over 8000 providers. This data is not only of benefit when running the xpert system, but also to other users and service providers. As part of the "Open Nottingham" strategy (a combination of the Xpert , Xpert Media Search and Attribution , BERLiN , U-Now , Xerte , iTunesU , Youtube EDU and Second Life ) we have devised, the Xpert Team have taken steps to start to provide data and services to other repositories and interested parties.
Scoping_Study_One-page_Summary.pdf (application/pdf Object)
Aggregation and the Resource Discovery Taskforce vision | JISC IE Technical Foundations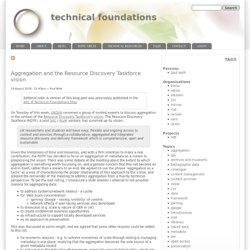 On Tuesday of this week, UKOLN convened a group of invited experts to discuss aggregation in the context of the Resource Discovery Taskforce 's vision . The Resource Discovery Taskforce (RDTF), a joint JISC / RLUK venture, has summed up its vision: UK researchers and students will have easy, flexible and ongoing access to content and services through a collaborative, aggregated and integrated resource discovery and delivery framework which is comprehensive, open and sustainable Given the limitations of time and resources, and with a firm intention to make a real contribution, the RDTF has decided to focus on aggregation of metadata as a means to progressing the vision. There was some debate at the meeting about the extent to which aggregation is something worth focussing on, and a general concern that this not become an end in itself, rather than a means to an end.