Military
TrainingNCO.com / FrontPage
World Affairs Board
Ryan Mauro is the National Security Analyst for ClarionProject.org, which produced the hit films, "Obsession," "The Third Jihad" and "Iranium." Mauro is a frequent analyst on FOX News Channel and other news outlets around the world. He is also a consultant to government agencies and an adjunct professor.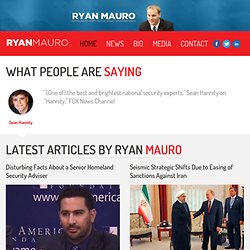 World Threats
NCO School - Developing and Maintaining Leaders
ArmyStudyGuide.com - A FREE Online and Audio Army Board Study Guide for U.S. Army Promotion Boards and Soldier / NCO Boards. ...
Elder founded the original NCO website and its successors, squad-leader.com and firstsergeant.com. Elder later donated his sites to the Army, which turned them into the Battle Command Knowledge System, the premier site on the web for Army NCOs. SMA Chandler stated last year "In an effort to best steward our limited resources, effective 30 September 2013, the Army will not renew the contract for many of our forums, which have been facilitated and supported by the Center for Army Lessons Learned. When possible, responsibility for some of these forums will be assumed by various agencies throughout the Army.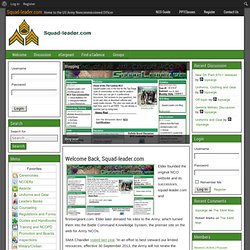 Squad-Leader.com | The US Army NCO Website, home of the noncommissioned officer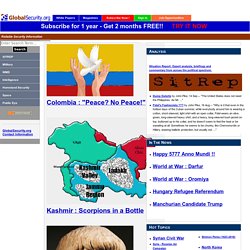 Situation Report: Expert analysis, briefings and commentary from across the political spectrum. Preserving Ukraine's European Choice by Stephen Larrabee, 24 Dec -- "With tens of thousands defiant protestors marching in the streets of Kiev, the crisis in Ukraine continues to evolve with no clear resolution in sight. At stake are Ukraine's future political orientation and the balance of power in Central Europe. ..."
As do the other U.S. Military Services, the Army uses military awards and decorations (medals and ribbons) to foster mission accomplishment by recognizing excellence of military members of the force and motivating them to high levels of performance and service. A medal will not be awarded or presented to any individual whose entire service subsequent to the time of the distinguished act, achievement, or service has not been honorable. The determination of "honorable" will be based on such honest and faithful service according the standards of conduct, courage, and duty required by law and customs of the service of a member of the grade to whom the standard is applied. Army awards and decorations are approved accordance to the guidance contained in Army Regulation 600-8-22, Military Awards. Rules for the proper wear of Army awards and decorations can be found in Army Regulation 670-1, Wear and Appearance of Army Uniforms.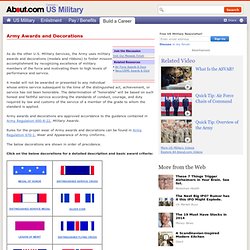 U.S. Army Awards and Decorations
Knowledge Online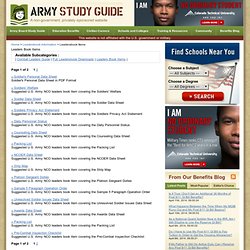 This website is not affiliated with the U.S. government or military. Home > Leadersbook Information > Leadersbook Items Leaders Book Items Available Subcategories : | Combat Leaders Guide | Full Leadersbook Downloads | Leaders Book Items | Page 1 of 2 1 2
Leaders Book Items (ArmyStudyGuide.com) page 1
Home NCO and Soldier Development "Excellent starting point to everything for the Soldier! Got questions?
ncodp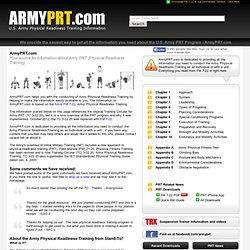 What is it? The Army's overhaul of Initial Military Training (IMT) includes a new approach to physical-readiness training (PRT). Field Manual (FM) 21-20, Physical Fitness Training, has been revised and is now Training Circular (TC) 3-22.20, Army Physical Readiness Training. TC 3-22.20 also supersedes the IET Standardized Physical Training Guide dated Jan. 4, 2005. What has the Army done? U.S.
Army PRT (Physical Readiness Training) information at ArmyPRT.com