Ooparts
Most Puzzling Ancient Artifacts
Toronto Meeting Planner | Cvent Destination Guide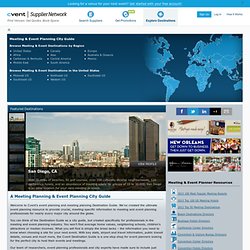 A Meeting Planning & Event Planning City Guide Welcome to Cvent's event planning and meeting planning Destination Guide. We've created the ultimate meeting planning resource to provide crucial, meeting-specific information to meeting and event planning professionals for nearly every major city around the globe.
Out-Of-Place Artifacts (OOPArt)
The Baigong Pipes, China. The Baigong Cave in China is the location of numerous ancient underground 'metal pipes' that were discovered in the beginning of the 20th century. Traditional science has provided one or two explanations for their presence, but as yet there is no definite answer as to how or why the pipes exist where they do, as they run through the ground and even into the nearby lake. There is no evidence of an associated pyramid, as is normally reported, but the idea that they are fossilised tree roots remains unsatisfactory making the Baigong pipes one of todays more interesting modern O.O.P.Arts. ( More about the Baigong Pipes ) The 'London' Hammer, Texas, USA: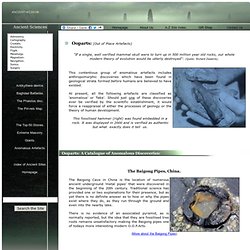 Ooparts: Out of place Artefacts
Ooparts & Ancient High Technology--Evidence of Noah's Flood?
Antediluvian / Preflood Civilizations
Introduction '''Antediluvian civilizations''' are civilizations believed to have existed before the Great flood of Noah. If the fossil record is indeed the result of the Biblical flood as described in the Bible, then it is somewhat expected for evidence of antediluvian (pre-flood) civilizations to exist. It is assumed by many that humans reached advanced stages of technological development before the flood.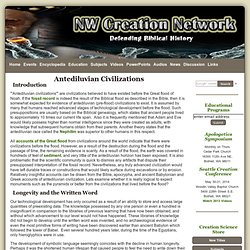 A photograph alleged to show one of the 'Dropa stones' A number of publications, particularly on the Ancient Astronaut end of the Bad Archaeology scale, have repeated a story about some stones said to have been found in caves at Bayan Kara Ula in western China. The story became known in the west principally through Erich von Däniken's second and third books, Return to the Stars and Gold of the Gods , although it appeared first in Robert Charroux's work and has since become a staple of ufological literature. The Bayan Kara Ula (Bayan Kara Shan or Bayan Har Shan) region (around 97°E 34°N), in Qinghai (Tsinghai) and Sichuan Provinces, contains the sources of the Tontian He (Yangtse Kiang) and Za Qu (Mekong) Rivers and until relatively recently, it was very isolated.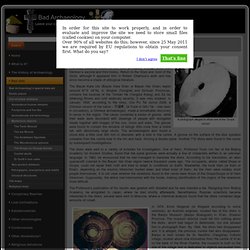 The 'Dropa stones'
Ooparts: Out of place Artefacts