Somos Tejanos
Using Online Tools to Engage The Public_0.pdf (application/pdf Object) Overview of Latino Culture. Latinos and Education Today. Mapping Controversies. Map. Dipity - Find, Create, and Embed Interactive Timelines.
Foundations
Latinos in Library and Information Science. Between Two Worlds: How Young Latinos Come of Age in America - Pew Hispanic Center. I.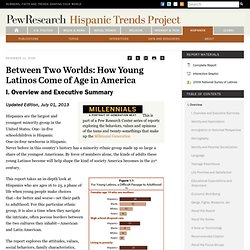 Overview and Executive Summary This is part of a Pew Research Center series of reports exploring the behaviors, values and opinions of the teens and twenty-somethings that make up the Millennial Generation Updated Edition, July 01, 2013 Hispanics are the largest and youngest minority group in the United States. One- in-five schoolchildren is Hispanic.
---