Food Storage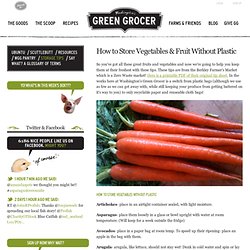 So you've got all these great fruits and vegetables and now we're going to help you keep them at their freshest with these tips. These tips are from the Berkley Farmer's Market which is a Zero Waste market! Here is a printable PDF of their original tip sheet.
Packaging: There are many sites that will tell you why food storage is important and others that will tell you how to choose the right AMOUNT of food. Do it yourself food storage SorbentSystems provides all the materials to do your own emergency food storage packaging, including MylarFoil bags, oxygen absorbers, desiccants and heat sealers. We will also explain why you need them. If you are preparing for the possibility of a food shortage or disaster, IMPAK is supplying the materials necessary for long-term food and product storage.
Long Term Food Storage - SorbentSystems.com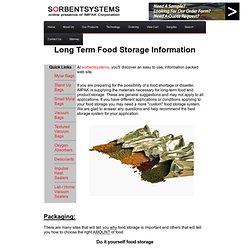 CLICK HERE to see all Mylar Bags, Oxygen Absorbers, Desiccant & Heat Sealer When deciding what kind of food storage arrangements to make for you and your family, you have several good options. You may choose food storage systems that are already pre-packed for long term storage and ready to be opened and eaten when an emergency strikes. That is an easy and commendable way to take care of your food storage needs. Plus the shelf life on these foods is an amazing 10 to 15 to 25 years due to the packaging!
Mylar Bags Do It Yourself Long Term Food Storage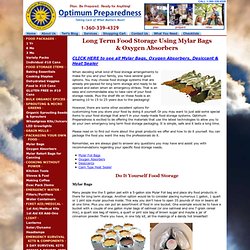 Skip to navigationSkip to content Year Supply of Food Freeze Dried Foods Dehydrated Foods Organic Natural Foods TVP® (Textured Vegetable Protein) Meals Ready to Eat (MRE's) Whole Wheats - Baking Flour Whole Grains - Cereals - Pasta Bulk Beans - Legumes Breakfast Cereals Sprouting Seeds Dried Mixes - Soups Desserts - Smoothies - Drink Mixes Yeast - Cooking Aids - Sugars Food Storage Equipment Mylar Bags Oxygen Absorbers Food Storage Buckets Gamma Seal Lids Grain Grinders - Food Mixers - Peelers Cookbooks - Emergency Books Emergency Heat/Food - Blankets Emergency Water Storage Water Purification Sanitation - Hygiene Radios - Stoves - Lamps - Flashlights 72-Hour Kits Emergency Candles Vitamins - Mineral Supplements
Packing Your Own Food Storage