Photo Tips & Techniques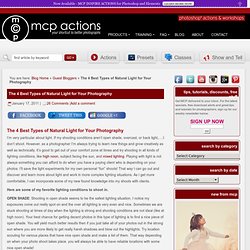 You are here: Blog Home » Guest Bloggers » The 4 Best Types of Natural Light for Your Photography The 4 Best Types of Natural Light for Your Photography I'm very particular about light.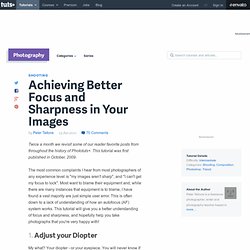 Twice a month we revisit some of our reader favorite posts from throughout the history of Phototuts+. This tutorial was first published in October, 2009. The most common complaints I hear from most photographers of any experience level is "my images aren't sharp", and "I can't get my focus to lock". Most want to blame their equipment and, while there are many instances that equipment is to blame, I have found a vast majority are just simple user error.
Possibly the most useful tool available in digital photography is the histogram. It could also well be the least understood. In this article we will look at what a camera histogram tells the photographer and how best to utilize that information. Virtually every digital camera, from the simplest point-and-shoot to the most sophisticated digital SLR has the ability to display a histogram directly, or more usually superimposed upon the image just taken. (The Hasselblad H1, the latest generation of film & digital capable cameras, can display a histogram on the camera grip's LCD while the image is separately displayed on the digital back's LCD.)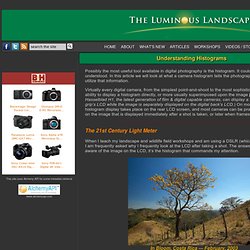 Become a Professional Photographer or Start an Exciting New Hobby! The "Professional Photography Course" is provided online. You study at home, in your own time and at your own pace. Cutting edge online diploma course in photography. Contributions from leading photographers.
The Photography Institute - Become a Freelance Photographer or Start an Exciting New Hobby!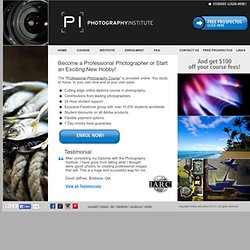 Monte Zucker's Portrait Photography ...
More Y. Chakrit (palmbook) - Monte Zucker's Portrait Photography HandbookMonte Zucker's Portrait Photography Handbook. Posted by Charles (palmbook) on Nov 10, '07 8:35 PM for everyone. Category: Books. Genre: Arts & Photography ...palmbook.multiply.com/reviews/item/2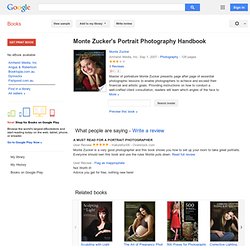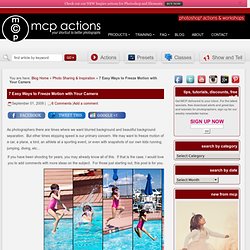 September 01, 2009 | 6 Comments |Add a comment As photographers there are times where we want blurred background and beautiful background separation. But other times stopping speed is our primary concern.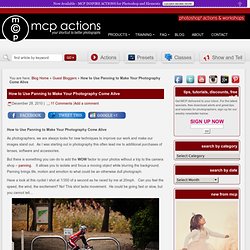 You are here: Blog Home » Guest Bloggers » How to Use Panning to Make Your Photography Come Alive How to Use Panning to Make Your Photography Come Alive As photographers, we are always looks for new techniques to improve our work and make our images stand out. As I was starting out in photography this often lead me to additional purchases of lenses, software and accessories. But there is something you can do to add the WOW factor to your photos without a trip to the camera shop – panning. It allows you to isolate and focus a moving object while blurring the background.
Photo by Joe McNally "Terry have you ever done a post or video on your photo storage workflow?" This was a question one of my Adobe Colleagues, Tim asked me last month and after a few moments of blank stares I replied, "hmm, um, no."
s Guest Blog Wednesday featuring Terry White! « Scott Kelby's Photoshop Insider Blog » Photoshop & Digital Photography Techniques, Tutorials, Books, Reviews & More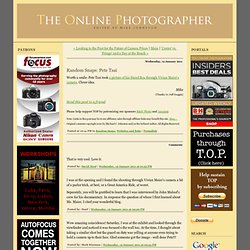 Worth a smile: Pete Tsai took a picture of his friend Bea through Vivian Maier's camera. Clever idea. Mike(Thanks to Jeff Goggin) Send this post to a friend Please help support TOP by patronizing our sponsors B&H Photo and Amazon Note: Links in this post may be to our affiliates; sales through affiliate links may benefit this site.
Random Snaps: Pete Tsai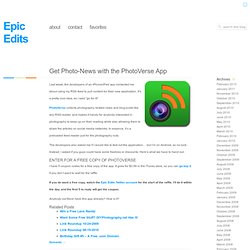 Last week, the developers of an iPhone/iPad app contacted me about using my RSS feed to pull content for their new application. It's a pretty cool idea, so I said "go for it!" PhotoVerse collects photography related news and blog posts like any RSS reader, and makes it handy for anybody interested in photography to keep up on their reading while also allowing them to share the articles on social media networks. In essence, it's a preloaded feed reader just for the photography nuts.