General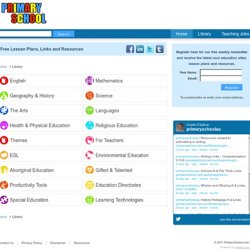 Primary School sites, lessons, resources
Primary School Sites, videos, lesson plans and resources Free Lesson Plans, Links and Resources Home > Library Register here for our free weekly newsletter and receive the latest cool education sites, lesson plans and resources. Your Name : Email :
News and reports- visual aids
Search for maths: Primary: KS2 teaching resources
#34802
Suitable for use on an IWB, PC or Mac at school. Also for teachers, parents & children at home with a PC or Mac. Online educational learning games and activities for Foundation Stage, Key Stage 1, Key Stage 2, Kindergarten and Elementary schools. Subjects including:Maths, English, Science, History, Geography, R.E., D.T., I.C.T, French and Spanish.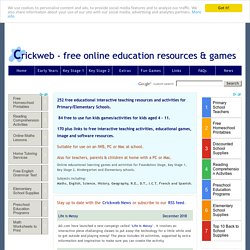 Channel 4 learning - online education resources and activities for schools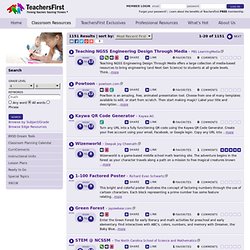 Enter the Green Forest for early literacy and math activities for preschool and early elementary. Find interactives with ABC's, colors, numbers, and memory with Dreamer, the Baby Blue Bird. Jayzee Bear's world (for ages 4 and up) includes interactives for practicing counting, beginning letter sounds, identifying shapes, coloring, memory games, and more. In Conkee's world, ages 6 and up, enjoy singing along, practicing time, reading books, and solving math problems. Red's house, ages 8 and up, explores outer space, goes on map adventures, finds nocturnal animals, unscrambles words, reads illustrated books, practices math skills, and shows how to make origami creations.
Classroom Resource Search Results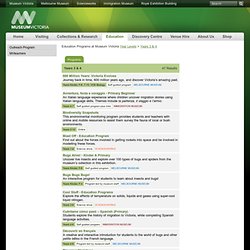 Program Results: Museum Victoria
Museum Victoria home Skip to main content Education Programs at Museum Victoria Year Levels > Years 3 & 4 Programs Years 3 & 4 47 Results
Plots and graphs are a type of visual learning diagram that visually represents a relationship between sets of numbers as a set of points having coordinates determined by that relationship. Venn diagrams, bar graphs, stack plots, pie charts and axis plots are some examples that help students develop data literacy by interpreting information and drawing conclusions. Plots and graphs also help students acquire the skills of reasoning, inquiry and communication.