Sculpts
John K Stuff. Mr.Dandy sculpture design, toys model kits and art figures - Resin Modeling Tips. !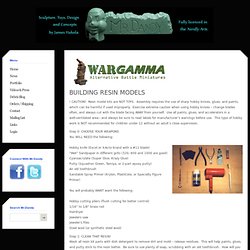 CAUTION! Resin model kits are NOT TOYS. Assembly requires the use of sharp hobby knives, glues, and paints, which can be harmful if used improperly. Exercise extreme caution when using hobby knives – change blades often, and always cut with the blade facing AWAY from yourself. Use all paints, glues, and accelerators in a well-ventilated area-- and always be sure to read labels for manufacturer's warnings before use. Adam Beane.
RyanTottle's deviantART Gallery. SculptorTim's deviantART Gallery. Sculptures by trev-solo on deviantART. Art Castings of Colorado Introduction Video. Handyrand's deviantART gallery.
---