POS
EVE Search - Moon mineral values and POS costs rough guide. Posted - 2006.03.15 14:21:00 - [1] The Tech II chain Tech 2 ships and modules - blueprints obtained from the blueprint lottery.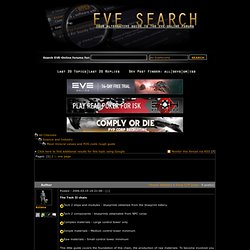 Tech 2 components - blueprints obtainable from NPC corps. Eve_PI_Diagrams_v1_2.pdf (application/pdf Object) POSguide.pdf (application/pdf Object) High Sec Alliance POS Usage Problem AND Troubleshoo. Posted - 2009.05.04 14:51:00 - [1] Ok.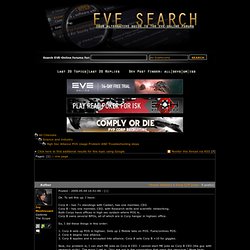 To set this up. EVE Evolved: Five useful starbase configurations - Massively. Player housing is one of those features we love to see in an MMO but every game that has it seems to implement it differently.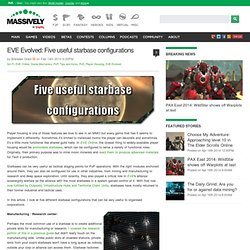 Sometimes it's limited to instanced rooms the player can decorate and sometimes it's a little more functional like shared guild halls. In EVE Online, the closest thing to widely-available player housing would be anchorable starbases, which can be configured to serve a variety of functional roles. Originally, their primary purpose was to mine moon minerals and react them to produce advanced materials for Tech 2 production. Starbases can be very useful as tactical staging points for PvP operations. With the right modules anchored around them, they can also be configured for use in other industries, from mining and manufacturing to research and deep space exploration.
---