BLOGS
FASHIONART / BLOG
Un año más hemos podido estar trabajando en la edición de lo que ya se ha consolidado como los premios españoles de peluqueria más importantes: El Club Figaro. Junto a grandes firmas de peluqueria como Toni&Guy, Identity o Leonardo Hair & Beauty realizamos la coordinación de estilismo de sus desfiles en la pasarela. Para la firma Leonardo elegimos parte de nuestra última colección masculina "Glycölic" también mostrada en la Valencia Fashion Week, y diseñamos una colección exclusiva para su desfile de mujer, igual que pudimos hacer con la firma Identity.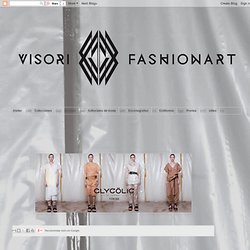 Blog Archive - Stamp
Hint Fashion Magazine -- Hint Blog
If Miss California's gay-unfriendly remarks ruffled your feathers, take a gander at London's Alternative Miss World, where imagination is encouraged and differences celebrated. Here, eccentric artist Andrew Logan, who began the event thirty-something years ago, ruled the roost Saturday night. Co-hosting with Ruby Wax, he lived up to the theme of The Elements with a Bauhaus-like outfit designed by Zandra Rhodes. Earth, air, water, fire—I was in my element!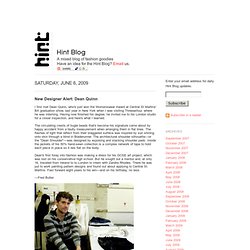 November 2008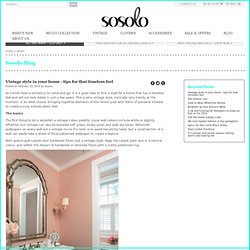 How to Wear White this Winter Posted on October 14, 2013 by Sosolo. Let's face it; summer is well and truly over for another year. While we may mourn those long, hot summer days, a new season is a great opportunity to try out new styles and reconnect with our favourite, warm, winter comforts. Although we can all look forward to a new crop of trend this autumn and winter, one popular colour has decided that it would like to stick around just a bit longer: white. You needn't look at a wedding site for some inspiration.
Sosolo Blog - Fashion style and trend news
» Masks
Dr. Romanelli » Blog » Blog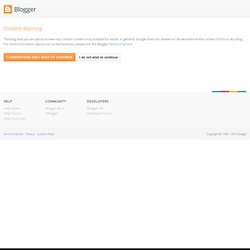 ALEX NOBLE
I was asked to design the Dalston Superstore Disco tent with artist and friend Anna bruder. Anna took on the inside and I designed an anachronistic temple entrance with looming Totem poll towers, adorned with psychadelic patterns and cat headed gods, drawing on heiroglyphics, Aztec and Navaho imagery as inspiration. I designed painted mannequins with ribbon streamer arms to mount the top of the totems for extra height, drama and funk - and I always love a mannequin.
I Give Myself To Strangers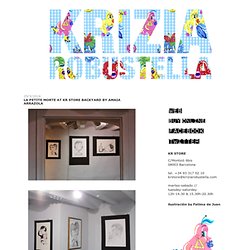 "Helados, kebabs y chuletas de brontoasurio: este es el menú que Krizia Robustella y David Méndez Alonso nos sirven esta temporada en su Paraíso particular. En un viaje gastronómico por el tiempo, sus nuevas sudaderas y pañuelos nos muestran escenas cotidianas del antiguo Egipto, de un poblado Esquimal o de un asentamiento en la Edad de Piedra - todo bien triturado por ese humor incontrolable que caracteriza sus creaciones. THE FAT FEAST, que así se llama su nueva propuesta, ya está disponible en la KR Store en Barcelona y su tienda Online: ya sea para recoger o con entrega a domicilio, Paraíso es una fiesta para los sentidos." buy here !! fotos_holy holemodelo_joss jaycoff
KRIZIA ROBUSTELLA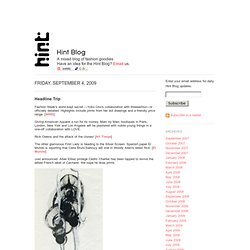 Hint Fashion Magazine -- Hint Blog
The Citizens Band's Sarah Sophie Flicker... Most of my Fashion Week plans have been dashed by my consumptive, pneumonic, bubonic plague-like scourge that I can't seem to shake. I was really heartbroken to miss Thakoon.
DESORDES CREATIVAS
-.ROKE graffiti ART.-
2009 July « eskimon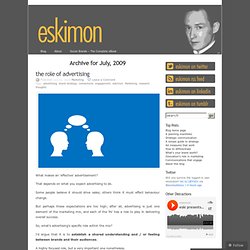 What makes an 'effective' advertisement? That depends on what you expect advertising to do. Some people believe it should drive sales; others think it must effect behaviour change. But perhaps these expectations are too high; after all, advertising is just one element of the marketing mix, and each of the 'Ps' has a role to play in delivering overall success. So, what's advertising's specific role within the mix?
June 2009
The really lovely Caroline at Patchwork Harmony tagged me this week, so here goes my answers....... What is your current obsession? My obsessions change quite often, currently i'm into flea markets, painting old furniture i find around the house (nothing is safe from my pot of Crown period white eggshell)I am also obsessed with interiors magazines, 1950's/1960's lamps and tables, chairs and for the love of god i can not stop buying sofa's!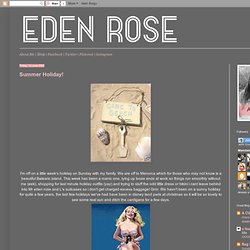 SICK SHOP LIFE
The Urban Gent | Me...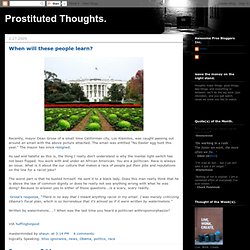 As you know, Prostituted Thoughts is a smorgasbord of media observations – often with an advertising slant. My musings will likely be just as random, but perhaps they will be enjoyable as well. The job market, particularly in communications, has reached a new low. Worst media internship ever.
02.2009
9/26/10 - 10/3/10
My Natural Anthem
bumbumbum - art, design and advertising blog
K I K K E R L A N D
1/07/09 - 1/08/09
Grupodicomers's Blog
La Nueva Escuela
Listen with your eyes
Street Art Utopia | We declare the world as our canvas
CENTRO DE GRAVEDAD PERMANENTE
Brandery Winter edition 2011, la feria de moda urbana de Barcelona
READY 4 RIOTS
pintura antiurbana
soraya olivares
November 2009
★ home & vintage ★
Blog
Abduzeedo | Graphic Design Inspiration and Photoshop Tutorials
Habitables Architecture
CoolVibe – Digital Art, Wallpapers, Inspiration.
Vintage Fashion Blog
Vandalog – A Street Art Blog
paintings + drawings
Distractions
Dirty Mouse
LooksLikeGoodDesign
Designeast.eu
youngprimitive blog
nitro:licious
numero f
Japanese Design