BLOGS
FASHIONART / BLOG
Blog Archive - Stamp
Hint Fashion Magazine -- Hint Blog
If Miss California's gay-unfriendly remarks ruffled your feathers, take a gander at London's Alternative Miss World, where imagination is encouraged and differences celebrated. Here, eccentric artist Andrew Logan, who began the event thirty-something years ago, ruled the roost Saturday night. Co-hosting with Ruby Wax, he lived up to the theme of The Elements with a Bauhaus-like outfit designed by Zandra Rhodes. Earth, air, water, fire—I was in my element!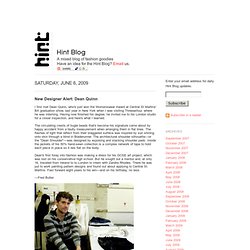 November 2008
Sosolo Blog - Fashion style and trend news
posted 7.03.2013 at 12:24 Backstage at bARBARA Í gONGINI, Spring/Summer 2013 / le-21eme.com posted 22.02.2013 at 12:12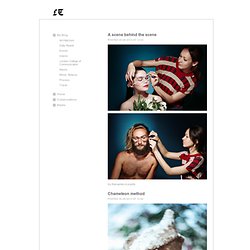 » Masks
Dr. Romanelli » Blog » Blog
ALEX NOBLE
I Give Myself To Strangers
KRIZIA ROBUSTELLA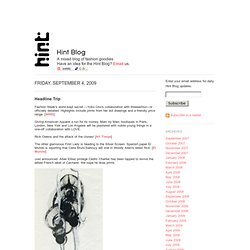 Hint Fashion Magazine -- Hint Blog
The Citizens Band 's Sarah Sophie Flicker... Most of my Fashion Week plans have been dashed by my consumptive, pneumonic, bubonic plague-like scourge that I can't seem to shake. I was really heartbroken to miss Thakoon.
DESORDES CREATIVAS
-.ROKE graffiti ART.-
2009 July « eskimon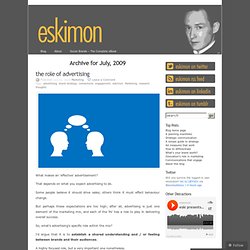 What makes an 'effective' advertisement? That depends on what you expect advertising to do. Some people believe it should drive sales; others think it must effect behaviour change. But perhaps these expectations are too high; after all, advertising is just one element of the marketing mix, and each of the 'Ps' has a role to play in delivering overall success. So, what's advertising's specific role within the mix?
June 2009
The really lovely Caroline at Patchwork Harmony tagged me this week, so here goes my answers....... What is your current obsession? My obsessions change quite often, currently i'm into flea markets, painting old furniture i find around the house (nothing is safe from my pot of Crown period white eggshell)I am also obsessed with interiors magazines, 1950's/1960's lamps and tables, chairs and for the love of god i can not stop buying sofa's!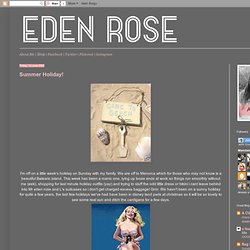 SICK SHOP LIFE
The Urban Gent | Me...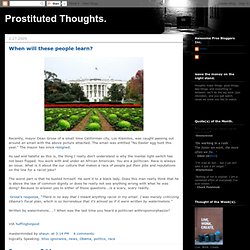 As you know, Prostituted Thoughts is a smorgasbord of media observations – often with an advertising slant. My musings will likely be just as random, but perhaps they will be enjoyable as well. The job market, particularly in communications, has reached a new low. Worst media internship ever.
02.2009
Images on this site are for inspiration only and not affiliated with Spanish Moss unless stated. All sources should be specified in writing or linked to the source they were pulled from by the blogger of the post. Each blogger is personally responsible for siting her sources. Please write info@shopspanishmoss.com if a photo belongs to you and you would like it taken down or linked to your website.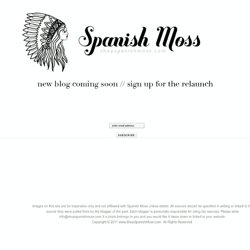 Avant-Garde for the Every Day! — Spanish Moss Blog
9/26/10 - 10/3/10
My Natural Anthem
1/07/09 - 1/08/09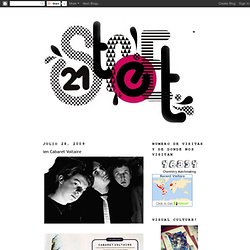 FESTIVAL INTERNACIONAL DE ARTE CONTEMPORÁNEOEl H. Ayuntamiento de León, el Instituto Cultural de León y el Forum Cultural Guanajuato, con el valioso apoyo del Consejo Nacional para la Cultura y las Artes, el Instituto Estatal de la Cultura de Guanajuato y múltiples instituciones públicas y privadas nacionales e internacionales, presentan la XV edición del FIAC. El Festival Internacional de Arte Contemporáneo (FIAC) nació en 1994 con la pretensión de establecer una plataforma en donde los constantes cambios, modas y reflexiones con las que se enfrentan la diversidad de las culturas contemporáneas puedan ser estudiadas y expuestas. El FIAC es el único festival temático de México, la propuesta se escoge edición tras edición en base a las inquietudes del arte actual.
Grupodicomers's Blog
La Nueva Escuela
Listen with your eyes
CENTRO DE GRAVEDAD PERMANENTE
La Winter edition del Brandery 2011 , la feria de moda que se instaló en Barcelona desde que el Bread & Butter volvió a Berlin , ya está a la vuelta de la esquina. El salón de moda urbana y contemporanea se celebrará del 26 al 28 de enero en el palacio 8 del recinto de Montjuic y para esta edición, a parte de las exposiciones de más de 147 marcas , de las cuales 49% son extrajeras, habrá también una serie de actividades ligadas al mundo de la moda . El salón estará organizado en diferentes áreas: The Fira , donde se exponen las marcas; The Brandtown , con bares, restaurantes y zonas de descanso; The Laundry y The City . Los expositores se distribuyen en cuatro sectores: The Cathedral , para los diseñadores que firman su marca ; The Loft , para marcas con un destacado componente diseño/tendencia ; The Warehouse , con la oferta del denim ; y The Stadium , centrado en el mundo Sport & Stree t, sport style y performance fashion.
Brandery Winter edition 2011, la feria de moda urbana de Barcelona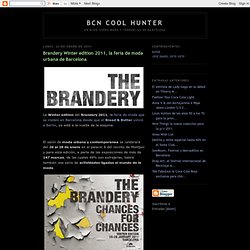 READY 4 RIOTS
pintura antiurbana
soraya olivares
November 2009
Well, after last week's wrist-slashingly fun jaunt through the interior landscape of my inner torment, I figured it was time for a more light-hearted post. That seems to be how I roll around these parts: from deep despair, examining and exposing old scars, to silly posts about, say, decomposing bananas. (No, that was never a metaphor.) As November is World Vegan Month – and, perhaps intentionally – also the month in which countless herbivores can expect to be thoroughly traumatized around the Thanksgiving table as a stuffed turkey corpse is carved and consumed before our very eyes, yes, it is time for one of my funny posts.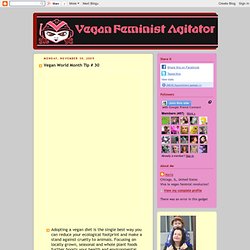 Blog
Habitables Architecture
Vintage Fashion Blog
paintings + drawings
Distractions
youngprimitive blog
QQ Blog
nitro:licious
A couple weeks ago I was invited to Taipei, Taiwan by Stussy and CMD for the grand opening of the Stussy Taipei Chapter Store . It was my first time in Taipei and I loved it, especially when traveling with so many friends. I had lots of good food and the weather was pretty good when I was there.
numero f
La gente de net.tutsplus han hecho una excelente selección de las mejores 50 galerías de imágenes que puedes incluir en tu página. Con gestor de contenidos o no, en PHP o Flash y soportando plugins o javascript; el abanico de posibilidades que te brindan es enorme. Desde fotografiar celebridades hasta experimentar con fotografía erótica, Patrick Hoelck camina por una línea entre el fine art y la moda sin renunciar a un estilo más o menos característico.
Japanese Design