Alyssagribble
Alyssa Gribble
and i want to get free; talk to me. i can feel you falling, and i won't tempt to be all you need. somehow here is gone. ^^^^^^^^ I'm Insane^^^^^^^^
Pearltrees videos
Getting started. CRAFTS. Hair Flower. 29 May 2010 These elegant fabric flowers are very simple to make . . . and only take a few basic supplies.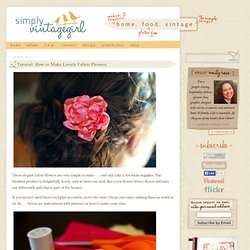 The finished product is delightfully lovely, and at times can look like a real flower! Every flower will turn out differently and that is part of the beauty! If you haven't used those tea lights in a while, now's the time! Doily Lamp. Paper Flower Key Holder. Difficulty Rating: Beginner Tags If you need a quick 'just because' gift for someone, this is it!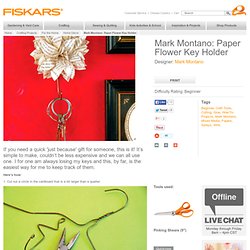 It's simple to make, couldn't be less expensive and we can all use one. I for one am always losing my keys and this, by far, is the easiest way for me to keep track of them. Here's how: Paper Flowers. Why not brighten up your gloomy winter day, by making your own paper flowers.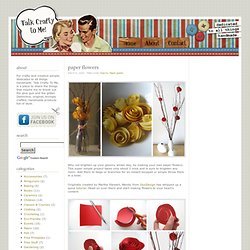 This super simple project takes only about 5 mins and is sure to brighten any room. Add them to twigs or branches for an instant bouquet or simply throw them in a bowl. Originally created by Martha Stewart, Wendy from DoziDesign has whipped up a quick tutorial. Head on over there and start making flowers to your heart's content. Craftgawker | look to inspire. Oh, Fransson! Today is my stop on the blog tour for the lovely and talented Jennifer Sampou's new fabric collection, Shimmer.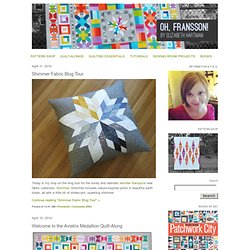 Shimmer includes nature-inspired prints in beautiful earth tones, all with a little bit of irridescent, sparkling shimmer. Continue reading "Shimmer Fabric Blog Tour" » Craft Passion: Free Craft Pattern & Tutorial. DIY: Chiffon and Tulle&Flowers. This beautiful tutorial for Chiffon and Tulle flowers is so inspirational.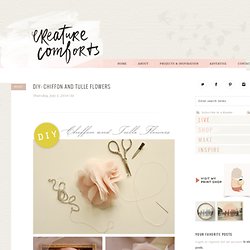 I can imagine applying the project to so many things…such as dressing up a bland throw pillow, creating hair accessories, a feminine belt, romantic shoe clips, an everlasting bouquet and more. Don't you just love the possibilities?! Check out the full tutorial right here. Images and post by Olivia Kanaley who authors one of my favorite blogs: A Field Journal. Perfect Summer Bangle. Here's a fun tutorial on how to make a message bangle that's one-of-a-kind, done in the sun, waterproof and weatherproof.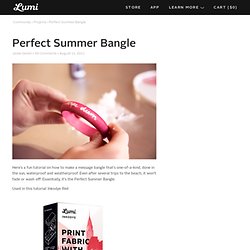 Even after several trips to the beach, it won't fade or wash off! Essentially, it's the Perfect Summer Bangle. Used in this tutorial: Inkodye Red Prepare.
---