Quality Assurance Network Strategies
10 steps to a thriving online community. By CyberMummy co-founder Sian To 03 May 2011 The great playwright Henrik Ibsen once described community as "like a ship; everyone ought to be prepared to take the helm".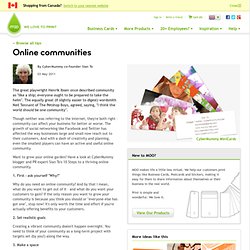 The equally great (if slightly easier to digest) wordsmith Neil Tennant of The Petshop Boys, agreed, saying, "I think the world should be one community". Though neither was referring to the internet, they're both right – community can affect your business for better or worse. The growth of social networking like Facebook and Twitter has affected the way businesses large and small now reach out to their customers. And with a dash of creativity and planning, even the smallest players can have an active and useful online community. 25 Useful Non-profit Networking Sites. If you want to change the world, you can do so by becoming involved in a non-profit organization.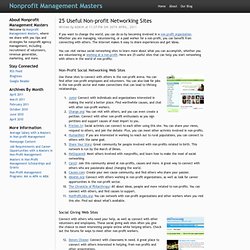 Whether you are managing, volunteering, or a paid worker for a non-profit, you can benefit from connecting with others. The Internet makes it easy to share experiences and get ideas. You can visit various social networking sites to learn more about what you can accomplish, whether you are volunteering or working at a non-profit. Welcome, Alyssa! 8 Tips for Managing a LinkedIn Group. Jessica Faye Carter is an award-winning author and columnist.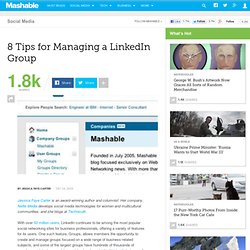 Her company, Nette Media develops social media technologies for women and multicultural communities, and she blogs at Technicultr. With over 50 million users, LinkedIn continues to be among the most popular social networking sites for business professionals, offering a variety of features for its users. One such feature, Groups, allows members the opportunity to create and manage groups focused on a wide range of business-related subjects, and some of the largest groups have hundreds of thousands of members and rival many niche social networks outside of LinkedIn in terms of size and activity.
Groups offer valuable networking opportunities for their participants, who gain access to resources and information that can be beneficial for their careers. If you are considering starting a LinkedIn group or want to increase the effectiveness or reach of your current group, the 8 tips below can help. How to Build a Thriving LinkedIn Group. Have you considered starting your own LinkedIn Group?
These groups are excellent for networking, prospecting and establishing thought leadership. You can start your own LinkedIn Group based on any of the following categories of professionals: prospects, peers, alumni, geographical, existing organizations, interest and more. Linkedin Keyword Optimization | Linked Strategies. A mind map of 100+ tips for using Linkedin more effectively. Mar 18th, 2011 | By Chuck Frey | Category: Resources Linkedin.com is one of those networking tools that can be overwhelming.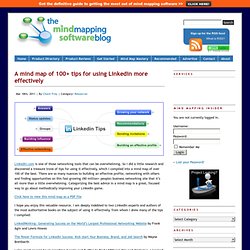 So I did a little research and discovered a treasure trove of tips for using it effectively, which I compiled into a mind map of over 100 of the best. 10 Reasons You Should Create A LinkedIn Group. Evaluating Online Activities. Revised November 23, 2013 Evaluating Online Activities: Online Action Should Create & Support Offline Action & Results Your organization has a profile on an online social networking site such as FaceBook, and you have hundreds of "friends" linked from your profile.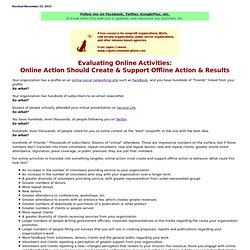 Nonprofit Organizations, NGOs & Online Social Networking: Advice and Commentary. Revised with new information: August 5, 2011 Nonprofit Organizations, NGOs & Online Social Networking: Advice and Commentary Your reaction to reading the words online social networking (OSN) for the first time is probably, isn't that just another description of the Internet?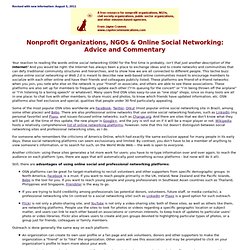 And you would be right: the Internet has always been a place to exchange ideas and to create networks and communities that can defy traditional community structures and hierarchies, and to show how we are all connected to different people.
How Can Nonprofits Switch to a Data-Driven Culture? Example of A/B Testing Results I've been reflecting on why some nonprofits do a better job of measurement and learning, while others do not.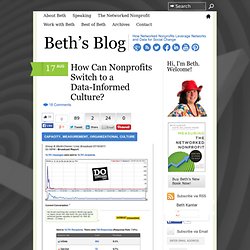 What is the difference? Rjleaman/nonprofit-technology...
---