Chemistry
Chemical Library Enumeration
Chemical Library Enumeration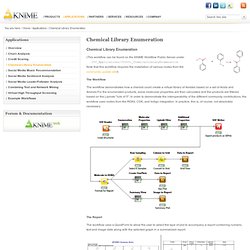 Molinspiration WebME Editor
ChEMBLdb
Online Chemical Modeling Environment
Online Chemical Modeling Tutorials
Online chemical modeling environment (OCHEM): web platform for data storage, model development and publishing of chemical information
ACD/ChemSketch 12 Freeware.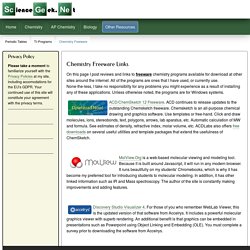 Virtual Laboratory Software
LogP Calculator
NCI/CADD Group Chemoinformatics Tools and User Services
This file contains the structures downloaded from the PubChem FTP site that have at least one assay result associated with them that was obtained in the context of the NIH Common Fund (previously: NIH Roadmap) Molecular Libraries Probe Production Centers Network (previously: Molecular Libraries Screening Center Network), part of the Common Fund's Molecular Libraries and Imaging program .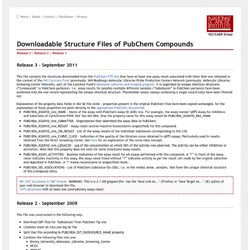 PubChem Download Page
PubChem Download Service
2,4,6-tri-tert-butylphenol - PubChem Public Chemical Database
NCBI: PubChem DB download
CHMIS-C
Chemical Databases - WWW Chemistry Guide
ChemMine
Chemical Search Engine
Home | ACToR | US EPA
SDF File Extension - Open .SDF files
PowerMV Molecular Viewer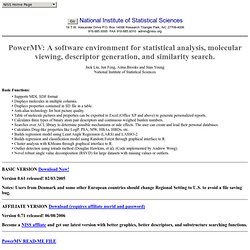 PowerMV: A software environment for statistical analysis, molecular viewing, descriptor generation, and similarity search.
Main Page - Avogadro - Free cross-platform molecule editor