Robotique
The Hubos Come Together
Watch tiny fighting robots vie for the Robo-One championship
Japan's Robo-One tournament for humanoid boxing robots took place last weekend, and Robots Dreams has posted a gallery of the tiny robots duking it out in the ring. Even better, they have full video of the winning match, where reigning champion GAROO knocked out challenger Gargoyle Mini.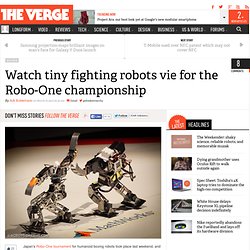 DARPA Cheetah Sets Speed Record for Legged Robots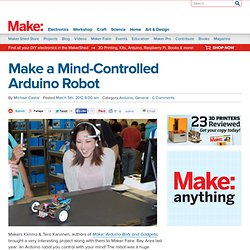 Makers Kimmo & Tero Karvinen, authors of Make: Arduino Bots and Gadgets, brought a very interesting project along with them to Maker Faire: Bay Area last year: an Arduino robot you control with your mind!
Make a Mind-Controlled Arduino Robot
Un bras bionique connecté au système nerveux
Un bras bionique connecté au système nerveux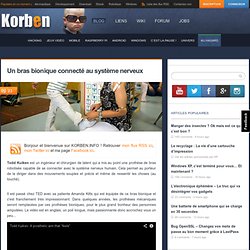 Some researchers at MIT have created a system that allows a pile of "smart pebbles" — tiny, cube-shaped robots — to create a 3D copy of whatever gets placed in it.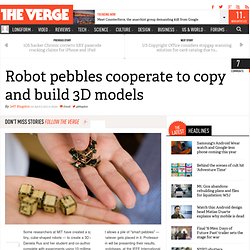 Robot pebbles cooperate to copy and build 3D models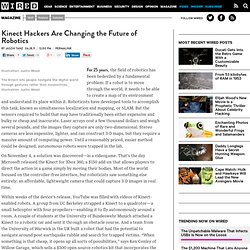 Kinect Hackers Are Changing the Future of Robotics | Magazine
The Kinect lets people navigate the digital world through gestures rather than mouseclicks.Illustration: Justin Wood For 25 years, the field of robotics has been bedeviled by a fundamental problem: If a robot is to move through the world, it needs to be able to create a map of its environment and understand its place within it.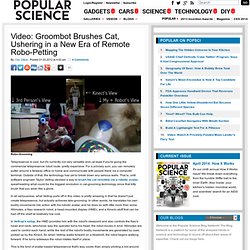 Telepresence is cool, but it's currently not very versatile and--at least if you're going the commercial telepresence robot route--pretty expensive.
Video: Groombot Brushes Cat, Ushering in a New Era of Remote Robo-Petting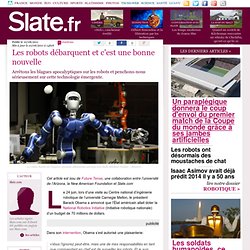 Les robots débarquent et c'est une bonne nouvelle
- Le robot Justin de l'agence spatiale allemande attrape une balle Michael Dalder / Reuters - Cet article est issu de Future Tense, une collaboration entre l'université de l'Arizona, la New American Foundation et Slate.com Le 24 juin, lors d'une visite au Centre national d'ingénierie robotique de l'université Carnegie Mellon, le président Barack Obama a annoncé que l'État américain allait doter la National Robotics Initiative (Initiative robotique nationale) d'un budget de 70 millions de dollars.