OER
OER Explained. 7 Things You Should Know About Open Educational Resources.
Teaching with Open Content
Available OER Resources. TED offers free video lessons for high school and college students. TED, a nonprofit organization that produces a popular annual conference on ideas, is launching TED-Ed, an online collection of lessons it hopes will bring the best educators to any classroom with an Internet connection.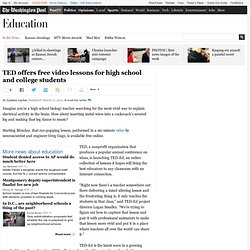 "Right now there's a teacher somewhere out there delivering a mind-altering lesson and the frustrating thing is, it only reaches the students in that class," said TED-Ed project director Logan Smal­ley. "We're trying to figure out how to capture that lesson and pair it with professional animators to make that lesson more vivid and put it in a place where teachers all over the world can share it." TED-Ed is the latest wave in a growing trend of free online education. The How, Why, and When of Posting Resources in the Online Classroom. July 12, 2012 By: Errol Craig Sull in Online Education Resources—that amalgam of nearly anything and everything related to the subjects we teach and offered to our students as "extras"—give students a broader, deeper, and enhanced understanding of what they are being taught.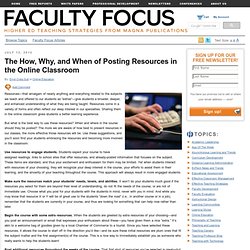 Resources come in a variety of forms and often reflect our deep interest in our specialties.
---