Seo tools
Web Tools for SEO. Have some? Add them. Oct 28
a web based FTP client
Free SEO Analysis - Pear Analytics Website Analyzer
Website Analyzer Tool & Web Page Analysis | Visible.net Tools
Compare Alexa, Compete.com, Quantcast and CrunchBase Data - AttentionMeter
This SEO Tools page has links to the best SEO Tools on the internet and these tools will help you to optimize your website and move your search engine position higher.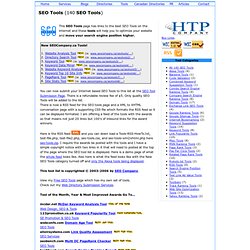 Simple Page Analyser - Plain English SEO Advice for Your Website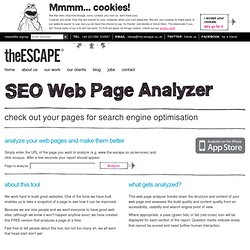 Web Page Analyzer Tool for SEO | The Escape
Analyze Your Web Pages and Make Them Better Simply enter the URL of the page you want to analyze (e.g. www.the-escape.co.uk/services) and click Analyze . After a few seconds your report should appear.
SEO (Search Engine Optimization) Analysis Tool This SEO Analysis Tool is to help you analyze and measure the ranking potential of your web pages.
Free SEO Analysis Search Engine Optimization Tool - SEO Workers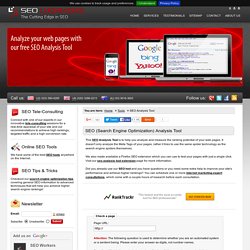 Free Online Spider Simulator | Summit Media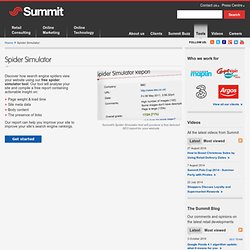 Home » Online Marketing » SEO » Spider Simulator Spider Simulator spider_simulator_replace If you are interested in working with us, call Andy Brown on +44 (0)1482 876 876 x401 « Back to SEO
The Reaction Engine: a Free Online SEO Analysis Tool
Free SEO Analysis & Website Analysis Software Tools | SpyderMate™
Lipperhey improves the quality and searchability of your website
SiteReportCard: Web Site Optimization and Promotion Tools
SEO Tools, Software and Articles - SEO Site Checkup
Rank Widget: Great Tools for Website Promotion!
Website Rank Widgets for Site Owners, Internet Marketing Tools, SEO Tools, Webmasters Tool