Prospective
Fondé en 2008, le Mouvement Zeitgeist est une organisation plaidant pour un monde durable, qui véhicule un activisme communautaire et des actions de sensibilisation par le biais d'un réseau de branches globales/régionales, d'équipes de projets, d'événements annuels, de médias et d'œuvres caritatives. Les principes phares du Mouvement incluent la reconnaissance que la majorité des problèmes sociaux qui gangrènent actuellement l'espèce humaine ne sont pas uniquement le fruit d'une corruption institutionnelle, de la rareté, de manœuvres politiques, d'un défaut de la « nature humaine » ou d'une autre cause communément évoquée au sein de la communauté activiste. Le Mouvement reconnaît plutôt que les problèmes que sont la pauvreté, la corruption, l'effondrement, l'accès au logement, la guerre, la famine etc... sont des « symptômes » découlant d'une structure sociale dépassée.
=ZEITGEIST=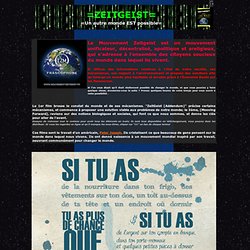 Prêt à jeter, l'obsolescence programmée. « Ce que vous devez savoir…
cequevousdevezsavoir.wordpress.com is no longer available. This site has been archived or suspended for a violation of our Terms of Service .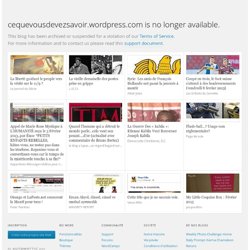 Péremption préméditée
NewHome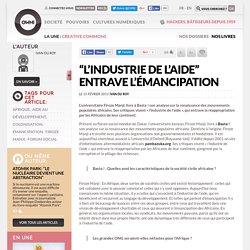 "L'industrie de l'aide" entrave l'émancipation » Article » OWNI, Digital Journalism
L'universitaire Firoze Manji, livre à Basta ! son analyse sur la renaissance des mouvements populaires africains. Ses critiques visent « l'industrie de l'aide », qui entrave la réappropriation par les Africains de leur continent.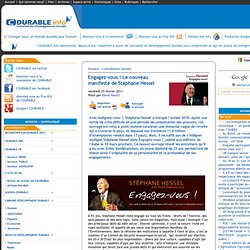 Avec Indignez-vous !
Engagez-vous ! Le nouveau manifeste de Stéphane Hessel