Free quality Vst & Vsti
Elektrostudio
HOME | HARDWARE AND SOFTWARE FOR MUSICIANS, PRODUCERS, DJS, GUITAR AND BASS PLAYERS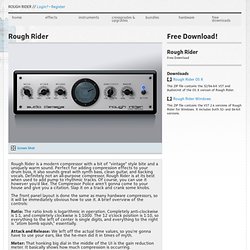 Rough Rider is a modern compressor with a bit of "vintage" style bite and a uniquely warm sound.
Audio Damage :: Rough Rider
You Wa Shock ! is VST/Winamp effect for brighten up and maximize any truck you hand him. Use: Though nothing can bring back the missing particle You Wa Shock !
youwashockvst
Antress Modern Plugins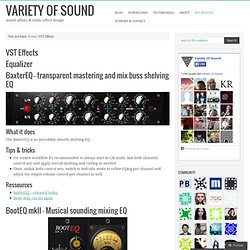 BaxterEQ – transparent mastering and mix buss shelving EQ What it does The BaxterEQ is an incredible smooth shelving EQ.
Variety Of Sound
LinPlug: Free Alpha3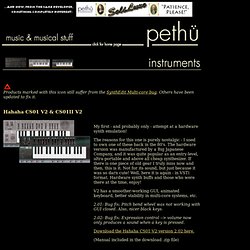 My first - and probably only - attempt at a hardware synth emulation! The reasons for this one is purely nostalgic - I used to own one of these back in the 80's. The hardware version was manufactured by a Big Japanese Company, and it was quite popular as an entry-level, ultra-portable and above all cheap synthesizer.
Pethü instruments
smartelectronix.com
Antti - ASynthe & Taurus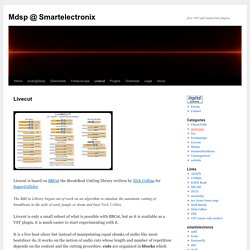 Livecut is based on BBCut the BreakBeat Cutting library written by Nick Collins for SuperCollider The BBCut Library began out of work on an algorithm to simulate the automatic cutting of breakbeats in the style of early jungle or drum and bass Nick Collins.
Livecut | Mdsp @ Smartelectronix
AnalogDelay | Mdsp @ Smartelectronix
de la Mancha
Ohm Force
Stereo Tool features ultra precise control of input gain and individual pan for left and right channels. A phase inverter is available on each channel. Global stereo pan and stereo width settings are also implemented to complete the management of the stereo signal.
Flux: Stereo Tool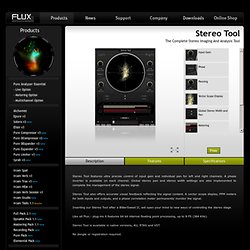 Flux
Glitch | Illformed
What is it? Glitch is a VST plug-in effect for Windows-based sequencers that support VST 2.3 or higher. What does it do?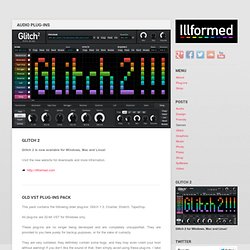 TAL - Togu Audio Line