Knowledge
Get flash to fully experience Pearltrees
After a long discussion with some of my RISC colleagues about what the 5 most important algorithms on the world are, we couldn't reach a consensus on this question.
Buy a printable PDF in English and in French . Read the French version – Thanks to Gilles Peyroux. See a text-only version http://bit.ly/rhetological We've now has Rhetological translated into German , Italian and Spanish .
About the Course This course provides a thorough introduction to the principles and methods of physics for students who have good preparation in physics and mathematics. Emphasis is placed on problem solving and quantitative reasoning. This course covers Newtonian mechanics, special relativity, gravitation, thermodynamics, and waves.
Institute for Advanced Study October 26, 1999 (All day) Robert P.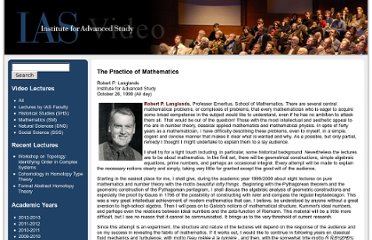 RSA Animate – The Power of Outrospection Introspection is out, and outrospection is in. Philosopher and author Roman Krznaric explains how we can help drive social change by stepping outside ourselves.
by Maria Popova