Portfolios to explore
Jennifer Huus. Logo Process – Love Ampersand Mini Development. Love Ampersand Concept Logo Design The Love Ampersand or Amperheart logo was the result of a few hours of procrastinating one Saturday morning.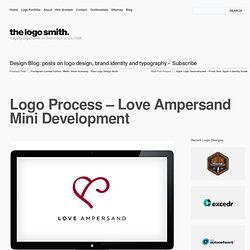 I had plenty of 'proper work' to be getting on with, but drifted towards 'playing' instead. Something I am racked with guilt over. However, pleased that the procrastination developed into something reasonably useful, and not just wasted hours on da internat. How it came about. Andrea Joseph. 50 Extremely Awesome Examples of Typography. This time we're gonna show you some truly inspiring works with text, also referred to as typography.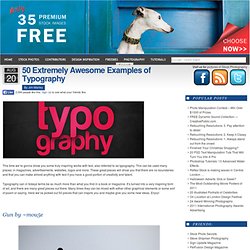 This can be used many places; in magazines, advertisements, websites, logos and more. These great pieces will show you that there are no boundaries and that you can make almost anything with text if you have a good portion of creativity and talent. Typography can in todays terms be so much more than what you find in a book or magazine. It's turned into a very inspiring form of art, and there are many great pieces out there. Many times they can be mixed with either other graphical elements or some sort of poem or saying. Dave Werners Portfolio 2006. The Art of Todd Lockwood ©2007 - Home.
Grafika, darmowe czcionki polskie, gry Flash, darmowe pędzle do. Kyle Lambert | Portfolio. Mozilla Firefox. Furiae. The Art Of Drazenka Kimpel. Keith Thompson Art. Steve Argyle | Website 3.0 | Home. Digital Blasphemy 3D Wallpaper.
---