Balance symbols
Yin/Yang Kiss. Ying-Yang tattoo thingy by ~Vargablod on deviantART. Temporary Tattoos, Military Style Dog Tags, Custom Tags. Yin yang Pictures, yin yang MySpace Graphics, yin yang MySpace L. Previous Image | Next Image Show This Picture On Your Blog, MySpace or Website.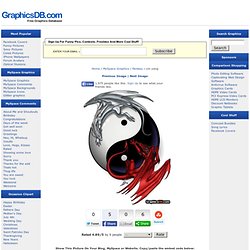 Copy/paste the embed code below: <a href=" border="0" src=" /></a><br> See more <a href=" yang pictures</a> Com Pictures. Enter ecoGROW. Free Yin Yang tattoo designs in several galleries. P1 of 50. Click here for the Yin Yang - start page While every effort has been made to verify the translations here we will not accept any legal responsibility for their accuracy.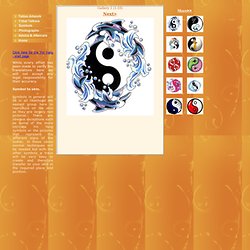 Symbols in general will be in all likelihood the easiest group here to reproduce on the skin as they are largely non pictorial. There are obvious exceptions such as some of the more intricate Yin Yang symbols or the pictures that represent the different signs of the zodiac. In these cases normal techniques will be needed but with the other symbols a trace will be very easy to create and therefore transfer to your skin in the required place and position. Fire Yin Yang by Denise A. Wells - Painting 20287. Artist Statement for Denise A.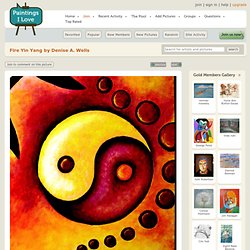 Wells My name is Denise Ann Wells and I live in Yankton, South Dakota. I am a Native American from the Yankton Sioux Tribe. I primarily work with pencil but enjoy using Acrylic paints as well. I enjoy doing anything crafty and imaginative. Photo Gallery. "YIN-YANG"--A painting by Jim Thompson--The Art, Mind, & Soul of. Item 3.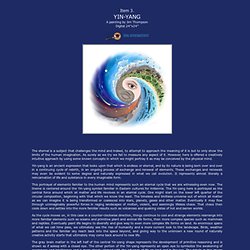 YIN-YANG A painting by Jim Thompson Digital 24"x24" The eternal is a subject that challenges the mind and indeed, to attempt to approach the meaning of it is but to only show the limits of the human imagination. As surely as we try we fail to measure any aspect of it. However, here is offered a creatively intuitive approach by using some known concepts in which we might portray it as may be conceived by the physical mind. Yin-yang is an ancient expression that looks upon that which is endless or eternal, and by its nature is being born over and over in a continuing cycle of rebirth, in an ongoing process of exchange and renewal of elements. Liens. Wordsymbols1.