Tools - Extracting
Search, plus Your World
The Fine Art of Reverse Searching on Images - Being Social Us
Okay, twice today I've been drawn up short by posts from bloggers for whom I have the deepest respect that address the 21st century "social skill" of getting permission and giving appropriate credit to the makers of images we're picking up online. First, "Santa Ed" Taylor put out a video about a client of his whose website was recently closed down by the ISP for copyright infringement because the client had grabbed a photo from an online source and not credited it in her blog. The second instance was a provocative blog post made by the brilliant Thomas Hawk. Thomas' rant was about having increasing numbers of people ripping off his photographs from online locations without asking his permission or honoring his Creative Commons licenses. The voice in the head is saying it's time to pay better attention myself and to make a post that shares the easy ways we can do reverse searching on images we find that we'd like to use on our blogs and in social media sites like G+.
YouTube
Get More Into YouTube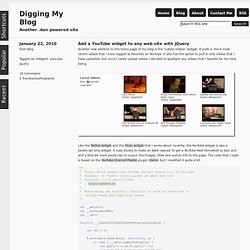 Add a YouTube widget to any web site with jQuery : Digging My Blog
Another new addition to the home page of my blog is the "Latest Videos" widget. It pulls in the 6 most recent videos that I have tagged as favorites on YouTube. It also has the option to pull in only videos that I have uploaded, but since I rarely upload videos I decided to spotlight any videos that I favorite for the time being. Like the Twitter widget and the Flickr widget that I wrote about recently, the YouTube widget is also a JavaScript only widget.
Google Demo Slam
ImportFeed - Google Docs Help
Transforming Text Into Knowledge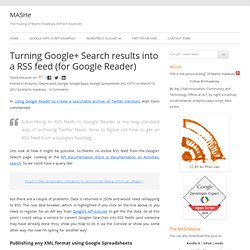 Deprecated Code, concepts or tools in this post may no longer work or shortly stop working (usually due to changes with 3rd party services). Feel free to reuse content from this post as you wish but you're on your own ;) In Using Google Reader to create a searchable archive of Twitter mentions Alan Cann commented: Subscribing to RSS feeds in Google Reader is my bog standard way of archiving Twitter feeds. Now to figure out how to get an RSS feed from a Google+ hashtag…
Turning Google+ Search results into a RSS feed (for Google Reader)
Google Spreadsheet: Auto-Update via RSS (and keep history)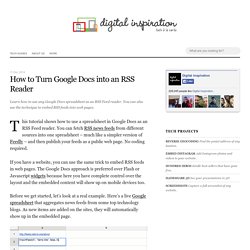 ImportFeed in Google Docs Tutorial - Use Google Docs as an RSS Reader
This tutorial shows how to use a Google Docs spreadsheet as an RSS Feed reader. You can also aggregate news feeds from different sources into one spreadsheet similar to Popurls and Alltop. This tutorial shows how to use a Google Docs spreadsheet as an RSS Feed reader (see example ).
How to get RSS into Excel: Google docs for analysing online buzz
A lot of search conversation online is about: online marketing (of one form or another) – often including encouraging more conversations about a client online reputation monitoring – in real time and looking at both alerts about bad news and information about the spread of good news reputation management – sometimes not so different from regular SEO, but with different goals Research is an area that is often over-looked (beyond the research needed to do the above – e.g. keyword research). Large brands often care intensely about a level of detail that simply doesn't break onto the radar for small businesses. One area that we have found ourselves doing more of recently is analysis of online conversations, share of voice, positive and negative slants and tracking the way conversations spread.
HOW TO: Search Twitter from Google Spreadsheets and Excel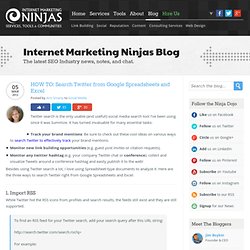 Twitter search is the only usable (and useful!) social media search tool I've been using since it was Summize. It has turned invaluable for many essential tasks: Track your brand mentions : Be sure to check out these cool ideas on various ways to search Twitter to effectively track your brand mentions. Monitor new link building opportunities (e.g. guest post invites or citation requests).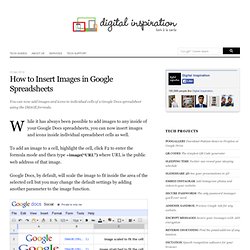 Add Images to your Google Docs Spreadsheet Cells
You can now add images and icons to individual cells of a Google Docs spreadsheet using the IMAGE formula. While it has always been possible to add images to the canvas of your Google Docs spreadsheets, you can now insert images inside individual cells as well. To add an image to a cell, highlight the cell, click F2 to enter the formula mode and then type =image("URL") where URL is the public web address of that image.
Fetching tweets to Excel/Word/PPT/Google Docs | AutomateAnalytics.com
When we ask GA Data Grabber users which new data source they'd most like to see added to the tool, YouTube has consistently been one of the top answers. We've heard your wishes and have now added a YouTube Module. This new module lets you fetch statistics for any number of YouTube channels and videos into one report, so you can easily monitor all your YouTube activity. As with all GA Data Grabber modules, reports can be created very flexibly: you can freely choose which metrics to include, and how to split the data. Metrics you can get include: Video views Unique viewers Time viewed Average % of video viewed Subscriptions to your channel Likes Favorites Shares