Online
The problem with virtual training: instructional design, not distance — Online Collaboration. Training at a distance is more hassle than it's worth, several CEOs have warned.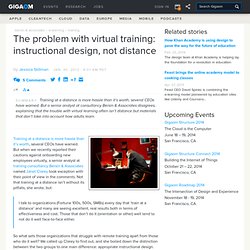 But when we recently reported their cautions against onboarding new employees virtually, a senior analyst at training consultancy Bersin & Associates named Janet Clarey took exception with their point of view in the comments. Not that training at a distance isn't without its pitfalls, she wrote, but: I talk to organizations (Fortune 100s, 500s, SMBs) every day that 'train at a distance' and many are seeing excellent, real results both in terms of effectiveness and cost.
10 Tools for Training Your New Virtual Worker — Online Collaboration. Yesterday, Georgina wrote about how to induct new remote team members.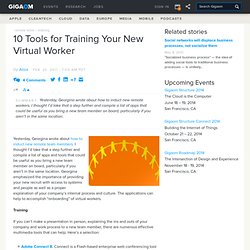 I thought I'd take that a step further and compile a list of apps and tools that could be useful as you bring a new team member on board, particularly if you aren't in the same location. Georgina emphasized the importance of providing your new recruit with access to systems and people as well as a proper explanation of your company's internal process and culture.
Tools + Methods. Empowering Personal Learning Environments. In Education. Apple Events - Apple Special Event January 2012.
---