jMake Music
Guitar Fingering
또다른 진화의 시작 리니지 모바일 헤이스트 PC로만 리니지를 즐길 수 있다는 편견은 이제 그만! 당신이 바라던 성장의 꿈, 이제 PC를 넘어 모바일에서도 느껴보세요.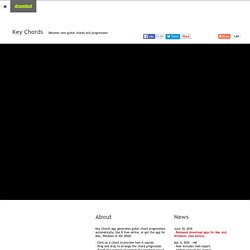 Key Chords is an interactive chord chart that allows you hear and see and arrange chords. - Click on a chord to preview how it sounds. - Drag and drop to arrange chords on the timeline - Tweak the settings to control the playback speed Or role the dice until you discover something that fits your mood. Select a Key: Select your favorite "Key" and whether you want to use the "Major" or "Minor" scale.
Billion Chords Features List: • Ability to find any chord possible • Ability to construct any chord by choosing the abbreviations on a list • Ability to listen the chords sound • Ability to change the sound by choosing an instrument • List of all synonyms of each chord • Drawing of the chord along the virtual fret diagram • You can choose a common tuning • You can change to your personal tuning • Find chords and omit barre chords • Display only easy chords • Choose the max distance between your fingers • Choose the maximum fret # to display the chord charts • Ability to display to left-handed chords • Change the bass note for any chord • More than 1 Billion combinations available • Omit 5 and omit 3 in any chord • and much more!...