jMake Music
Guitar Lessons. Sound Lab! Piano Chords. Guitar Fingering. 또다른 진화의 시작 리니지 모바일 헤이스트 PC로만 리니지를 즐길 수 있다는 편견은 이제 그만!
당신이 바라던 성장의 꿈, 이제 PC를 넘어 모바일에서도 느껴보세요. The Essential Guitar Guide. Key Chords. Key Chords is an interactive chord chart that allows you hear and see and arrange chords. - Click on a chord to preview how it sounds. - Drag and drop to arrange chords on the timeline - Tweak the settings to control the playback speed Or role the dice until you discover something that fits your mood.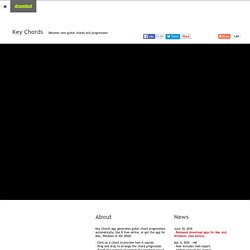 Select a Key: Select your favorite "Key" and whether you want to use the "Major" or "Minor" scale. Chord Editor. Music Theory. Musical Instruments. Guitar Chords.
---