Arquitectura
Визуальное 4D шоу в Лионе
Rafmögnuð Náttúra / Marcos Zotes
Francisco Brennand
For those readers who enjoyed nerding out on last week's Found Functions post, here's another fascinating find where nature meets science. The Garden of Cosmic Speculation is unlike any other garden we have seen before. The focus here is not on rare species of colorful flowers, but on creating permanent monuments to the patterns of mathematics within nature itself. Metal sculptures and green landscaping in different areas on the grounds are intended to provoke deep thought about scientific concepts like the fibonacci series, fractals, DNA, and the human senses. The 30-acre private property in Dumfries, Scotland is owned by Charles Jencks and only allows access to the public on one shining day per year.
The Garden of Cosmic Speculation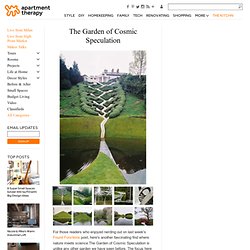 Antoni Gaudí i Cornet ( Riudoms o Reus , [ 1 ] 25 de junio de 1852 – Barcelona , 10 de junio de 1926 ) fue un arquitecto español , máximo representante del modernismo catalán . Gaudí fue un arquitecto con un sentido innato de la geometría y el volumen , así como una gran capacidad imaginativa que le permitía proyectar mentalmente la mayoría de sus obras antes de pasarlas a planos. De hecho, pocas veces realizaba planos detallados de sus obras; prefería recrearlos sobre maquetas tridimensionales , moldeando todos los detalles según los iba ideando mentalmente. En otras ocasiones, iba improvisando sobre la marcha, dando instrucciones a sus colaboradores sobre lo que tenían que hacer.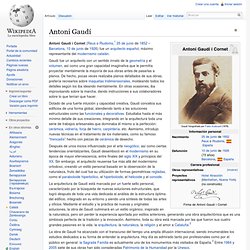 Antoni Gaudí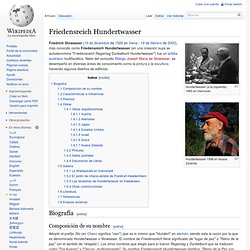 Friedensreich Hundertwasser
Hundertwasser (a la izquierda) 1965 en Hannover. Hundertwasser 1998 en Nueva Zelanda. Friedrich Stowasser ( 15 de diciembre de 1928 en Viena - 19 de febrero de 2000 , más conocido por el nombre de Friedensreich Hundertwasser (en una creación suya se autodenomina "Friedensreich Regentag Dunkelbunt Hundertwasser") fue un artista austriaco de muchos talentos, es uno de los nietos del conocido filólogo Joseph Maria de Stowasser . Sus áreas de conocimiento fueron la pintura y la escultura haciendo algunos diseños de edificios.