Arquitectura
Inspiracion
Escuela. Carrera: facultad. Architectural inspiration | TED Playlists. Sustainability by design | TED Playlists. Japon. Визуальное 4D шоу в Лионе. Rafmögnuð Náttúra / Marcos Zotes. Francisco Brennand. Modernism. The Garden of Cosmic Speculation. Cambio climatico. Britta Riley: A garden in my apartment. Home. Bjarke Ingels: Hedonistic sustainability. Michael Pawlyn: Using nature's genius in architecture.
Dan Phillips: Creative houses from reclaimed stuff. Antoni Gaudí. Antoni Gaudí i Cornet (Reus o Riudoms,[1] 25 de junio de 1852 – Barcelona, 10 de junio de 1926) fue un arquitecto español, máximo representante del modernismo catalán.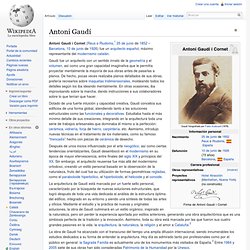 Dotado de una fuerte intuición y capacidad creativa, Gaudí concebía sus edificios de una forma global, atendiendo tanto a las soluciones estructurales como las funcionales y decorativas. Estudiaba hasta el más mínimo detalle de sus creaciones, integrando en la arquitectura toda una serie de trabajos artesanales que dominaba él mismo a la perfección: cerámica, vidriería, forja de hierro, carpintería, etc. Asimismo, introdujo nuevas técnicas en el tratamiento de los materiales, como su famoso "trencadís" hecho con piezas de cerámica de desecho. Archi. Friedensreich Hundertwasser. Hundertwasser (a la izquierda) 1965 en Hannover.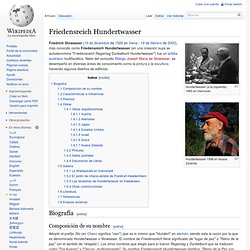 Hundertwasser 1998 en Nueva Zelanda. Friedrich Stowasser (15 de diciembre de 1928 en Viena - 19 de febrero de 2000), más conocido como Friedensreich Hundertwasser (en una creación suya se autodenomina "Friedensreich Regentag Dunkelbunt Hundertwasser") fue un artista austriaco multifacético. Nieto del conocido filólogo Joseph Maria de Stowasser, se desempeñó en diversas áreas de conocimiento como la pintura y la escultura haciendo algunos diseños de edificios. Autodesk Homestyler: software gratuito para diseño de interiores.
---