Arquitectura
Визуальное 4D шоу в Лионе
Rafmögnuð Náttúra / Marcos Zotes
Francisco Brennand
For those readers who enjoyed nerding out on last week's Found Functions post, here's another fascinating find where nature meets science.The Garden of Cosmic Speculation is unlike any other garden we have seen before. The focus here is not on rare species of colorful flowers, but on creating permanent monuments to the patterns of mathematics within nature itself. Metal sculptures and green landscaping in different areas on the grounds are intended to provoke deep thought about scientific concepts like the fibonacci series, fractals, DNA, and the human senses. The 30-acre private property in Dumfries, Scotland is owned by Charles Jencks and only allows access to the public on one shining day per year. We are impressed not only by the conceptual breadth of such an undertaking, but also by the two-tone look of green and steel outdoors.
The Garden of Cosmic Speculation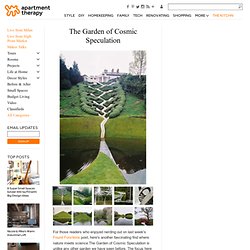 Antoni Gaudí i Cornet (Reus o Riudoms,[1] 25 de junio de 1852 – Barcelona, 10 de junio de 1926) fue un arquitecto español, máximo representante del modernismo catalán. Dotado de una fuerte intuición y capacidad creativa, Gaudí concebía sus edificios de una forma global, atendiendo tanto a las soluciones estructurales como las funcionales y decorativas. Estudiaba hasta el más mínimo detalle de sus creaciones, integrando en la arquitectura toda una serie de trabajos artesanales que dominaba él mismo a la perfección: cerámica, vidriería, forja de hierro, carpintería, etc. Asimismo, introdujo nuevas técnicas en el tratamiento de los materiales, como su famoso "trencadís" hecho con piezas de cerámica de desecho.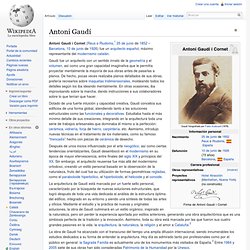 Antoni Gaudí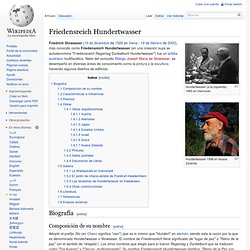 Friedensreich Hundertwasser
Hundertwasser (a la izquierda) 1965 en Hannover. Hundertwasser 1998 en Nueva Zelanda. Friedrich Stowasser (15 de diciembre de 1928 en Viena - 19 de febrero de 2000), más conocido como Friedensreich Hundertwasser (en una creación suya se autodenomina "Friedensreich Regentag Dunkelbunt Hundertwasser") fue un artista austriaco multifacético. Nieto del conocido filólogo Joseph Maria de Stowasser, se desempeñó en diversas áreas de conocimiento como la pintura y la escultura haciendo algunos diseños de edificios.