Graduate jobs uk
WSP Group: WSP Group - engineering consultants. Careers | Mace. Mace's 4,000+ people are among the most experienced and knowledgeable professionals in the industry.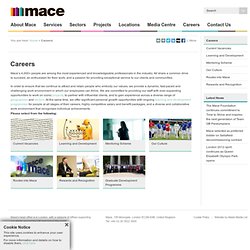 All share a common drive to succeed, an enthusiasm for their work, and a passion for providing exceptional service to our clients and communities. In order to ensure that we continue to attract and retain people who embody our values, we provide a dynamic, fast-paced and challenging work environment in which our employees can thrive. We are committed to providing our staff with ever-expanding opportunities to work on iconic projects, to partner with influential clients, and to gain experience across a diverse range of geographies and sectors.
At the same time, we offer significant personal growth opportunities with ongoing learning and development programmes for people at all stages of their careers, highly competitive salary and benefit packages, and a diverse and collaborative work environment that recognises individual achievements. AJ100. UK jobs: Find a job, build a career. It's not luck, it's totaljobs. The Times Top 100 Graduate Employers 2011-2012. JobOnline > Graduate Vacancies and Careers search results. Home - Apprenticeships. Graduate Jobs, Schemes and Internships UK. Home page: Graduate jobs, Postgrad study, Work Experience, Graduate Career Information. Pathfinders Media Recruitment - Home. City & Guilds | UK home. Engineering Construction Industry Training Board - Apprentice.
CAD Technician - All Information. The Work As a computer aided design (CAD) technician, you would use software to create design plans for buildings and machinery in a wide range of industries, such as engineering, construction and manufacturing.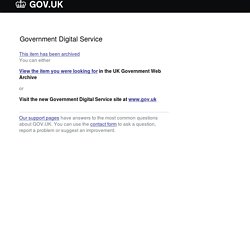 You could work in 2D design, which is known as surface modelling, and 3D design – called solid modelling. Main Page - Draftsperson.net. Graduate jobs, recruitment, schemes, careers, internships and advice: TARGETjobs UK. Gradcracker - The careers website for engineering & technology students. Property Jobs - Macdonald & Company: Property Recruitment Agency. Learning Partners - Education & Careers - Royal Town Planning Institute. Employers play a key role in supporting the education and professional development activities of their staff.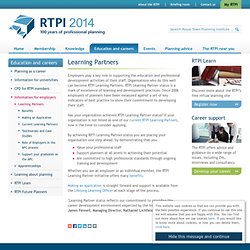 Organisations who do this well can become RTPI Learning Partners. RTPI Learning Partner status is a mark of excellence of learning and development practices. Since 2006 employers of planners have been measured against a set of key indicators of best practice to show their commitment to developing their staff. Has your organisation achieved RTPI Learning Partner status? Planning Consultants Online Directory: Listings. This site uses cookies; by continuing to use our site you agree to our use of cookies.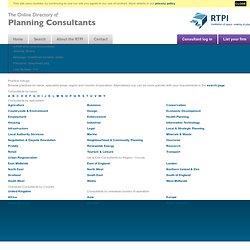 More details in our privacy policy. Close A PHP Error was encountered Severity: Notice. Planningjobs.
No
Tower Hamlets Council Recruitment. Kdh. URS Europe > At work in United Kingdom. Graduate Planner Job Vacancy in Manchester | Apply Now. URS are looking to recruit a number of Graduate Planners for our Manchester offices.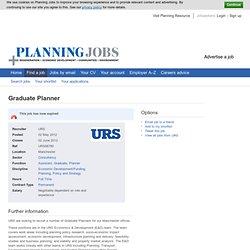 These positions are in the URS Economics & Development (E&D) team. The team covers work areas including planning policy research; socio-economic impact assessment; economic development; infrastructure planning and delivery; feasibility studies and business planning; and viability and property market analysis. The E&D team works closely with other teams in URS including Planning, Transport; Environmental Impact Assessment; and Spatial Planning and Urban Design.
We are looking for dynamic, flexible and ambitious graduates and candidates in the early stages of their career interested in a broad range of work in planning, property and economic development. URS Europe > Careers > Career opportunities. Validation Officer/Planning Administrators Job Vacancy in London | Apply Now.
Mmunity Project Officer Job Vacancy in London | Apply Now. · Project manage key work streams and tasks relating to the implementation of a new administrative process for the collection and enforcement of the Mayoral and Borough Community Infrastructure Levy (CIL). · To monitor and control all financial payments received to ensure that monies are received in a timely manner properly accounted for and to manage data stores housing financial and planning data relating to CIL. · To prepare monitoring reports for the Mayoral and Borough CIL and deliver presentations to senior managers and others on key aspects of CIL, as well as developments in CIL policy.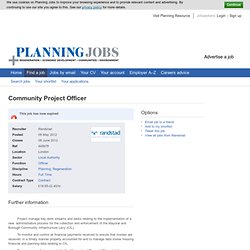 Graduate Opportunities with The Miller Group | 54742. Graduate Opportunities UK wide At The Miller Group, we're proud of our diversified businesses, our experienced and capable teams and high quality brand.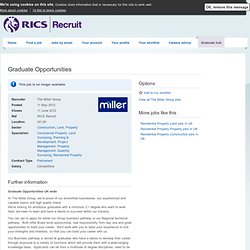 We're looking for ambitious graduates with a minimum 2:1 degree who want to work hard, are keen to learn and have a desire to succeed within our industry. AMEC Environment & Infrastructure UK - environmental and engineering consultancy. Job Search | one search. all jobs. Indeed.
Town Planning Jobs, Vacancies, Recruitment. Matchtech has a specialist division offering town planning jobs, which has considerable experience of recruiting town planners, development control officers, enforcement officers, transport planners, graduates, project managers, urban designers, CAD and GIS technicians for regeneration and planning jobs.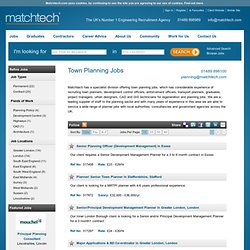 We are a leading supplier of staff to the planning sector and with many years of experience in this area we are able to service a wide range of planner jobs with local authorities, consultancies and government agencies across the UK. No.1 for fundraising jobs, charity jobs, not for profit jobs, NGO jobs and third sector jobs in the UK.
---