Pages of Quotes
Everythings Right. Surviving the World. Sad Love Quotes. "Some of us think holding on makes us strong; but sometimes it is letting go.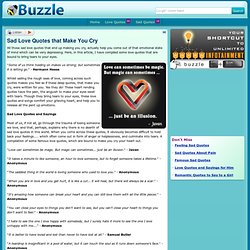 " - Hermann Hesse Whilst sailing the rough seas of love, coming across such quotes makes you feel as if these deep quotes, that make you cry, were written for you. Yes they do! Amazing and inspiring images. Quotes For the Day. Source: Uploaded by user via Princess Source: Uploaded by user via Princess Source: patinastores.com via Princess Source: lesleyvmartinez.tumblr.com via Princess.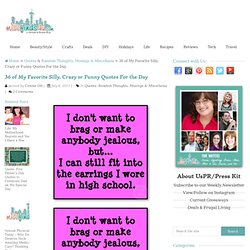 Inspirational Quotes. Wise quotes. Some wise and funny quotes from famous and anonymous people. 1.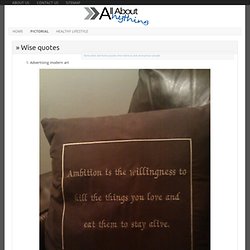 Advertising modern art 2. Ambition 3. Random Quotes. Inspirational Picture Quotes. Latest Picture Quotes. Many of the problems in this world are generated by a lack of care or desire to influence positively in some sort.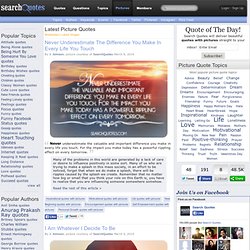 Many of us who are trying to make a splash in this mass society, in an effort to be noticed, forget that when we do make a splash, there will be ripples caused by the splash we create. Remember that no matter how big or small that you think your role on this Earth is, you have to realize that you are influencing someone somewhere somehow.Read the rest of this article » Inspiration Gallery #139. Random Genorated Quotes. Popular Quotes.
---