Best match
What's My Perfect Dog? Find Dog Breeds that fit You! The Dog Match - The Dog Match. Meet Your Match :: Cat Adopter Survey :: Final Score :: Richmond VA SPCA - www.RichmondSPCA.org. Every time you adopt a pet from the Richmond SPCA, you enable us to save the life of another orphaned animal in great need, and finding a great companion has never been easier!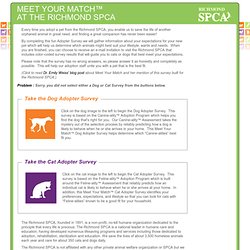 By completing this fun Adopter Survey we will gather information about your expectations for your new pet which will help us determine which animals might best suit your lifestyle, wants and needs. When you are finished, you can choose to receive an e-mail invitation to visit the Richmond SPCA that includes color-coded survey results that will guide you to cats or dogs that best meet your expectations. Please note that the survey has no wrong answers, so please answer it as honestly and completely as possible. This will help our adoption staff unite you with a pet that is the best fit.
(Click to read Dr. Dog Breed Selector | Purina.com. Matchup: Results | Dog Time. Quiz Fanatic » What Breed of Dog Best Suits Your Personality? Quiz Fanatic Fun girly quizzes for teens, made by a teen!
Main menu: Categories +/- Uncategorized (1) Archive +/- Quiz Result: Which Dog breed is perfect for you? Created by LexiLovesNickJonas Chihuahua Your soal pup is a CHIHUAHUA!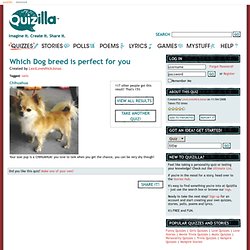 You love to talk when you get the chance, you can be very shy though! Page 9 of What Dog Breed are You? The Dog Breed Personality Quiz by Dogster. Dog Breed Questionnaire Results.
---