Allscifi
Geoff Beal
SF and Fantasy news, reviews and opinions - Science Fiction World
sci-fi Videos | Video Search Engine Fooooo
ScienceFiction.com - Science Fiction (sci-fi) news, books, tv, movies, comic books, video games and more...
Online Scifi Fantasy Blog
Free Novels Online and Links to Other Free Online Cyber-Books
Read half the novel free - see how Free Online Novels can eventually become a best-selling book.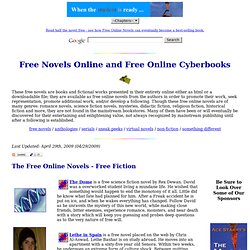 Airlock Alpha | Sci-fi and Fantasy News, Reviews and Opinion
SABERHAGEN'S WORLDS of SF and FANTASY
Post Apocalyptic movies tv and books
science fiction, fantasy and horror from infinity plus
SFRevu September 2011
Troynovant - the city of nobly recurring knowledge
The Black Star Passes - John W. Campbell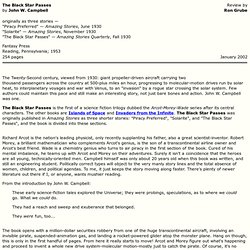 The Twenty-Second century, viewed from 1930: giant propeller-driven aircraft carrying two thousand passengers across the country at 500-plus miles an hour, progressing to molecular-motion drives run by solar heat, to interplanetary voyages and war with Venus, to an "invasion" by a rogue star crossing the solar system.
Science fiction | Books
Gregory Benford: Nebula Award-Winning Science Fiction Author
Empty World | End of the World Fiction, Film and TV
Against the Day
Copyright (C) 2007-2014, Answers 2000 Limited
Fantasy & SciFi Lovin' News & Reviews
lovereading - Horror - Fantasy - SciFi Books
Sci Fi - in a suit and tie.
Sci-Fi United | Create the Future Now
Sci-Fi Bulletin
Scifi and Fantasy Literature
Untold Scifi - Science Fiction Films, TV Shows | News & Trailers
SciFi Movie News - Latest Movie News & Movie Reviews
Comic Book & Sci-Fi Movie News - Heat Vision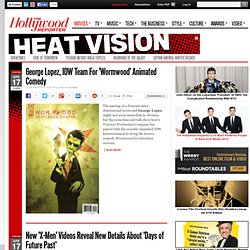 Jonas Cuaron has found his villain. Jeffrey Dean Morgan will star opposite Gael Garcia Bernal in Desierto, the thriller being directed by Cuaron, who co-wrote the awards contender Gravity with his father, Alfonso Cuaron. The story centers on a group of illegal immigrants, one of which is played by Bernal, who try to cross the border but run afoul of a man (Morgan) who has taken up border patrol duties in his own racist hands.
F or the past year or so I've been spending most of my waking hours in a place where light, matter, energy and time obey different laws of physics than those that rule our own universe. Studying the way things move and interact under these alternative laws reveals some familiar behaviour, some strange and eerily beautiful phenomena, and some terrifying risks.
Plus, Minus: A Gentle Introduction to the Physics of Orthogonal
Books > Science Fiction
Daily Science Fiction :: Freefall by Eric James Stone
BestScienceFictionStories.com
science fiction short stories