Stephen King FanCast
akabearded : I've fallen off of the
Keyboard Shortcuts Keyboard shortcuts are available for common actions and site navigation. Twitter Matt Jacobs ‏@akabearded 1h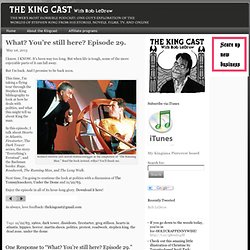 I know. I KNOW. It's been way too long. But when life is tough, some of the more enjoyable parts of it can fall away.
What? You're still here? Episode 29.
Have an account? Sign in New to Twitter? Join Today » Forgot password? Already using Twitter via text message? Language: English
alloymatt : Just picked up a hardback,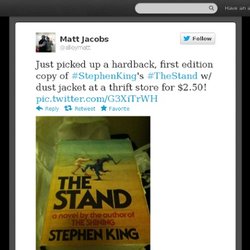 Neil DeGrasse Tyson on the Science of Stephen King's Dark Tower
Those of you that have heard the Dark Tower episodes of the podcast, know that I really enjoy the theoretical science that goes into it. One day, whilst pondering another MIND = BLOWN episode of StarTalk Radio, I got to thinking about the Tower, and how a scientist would view these various things. On a whim, I decided to shoot an email off to, none other than, the Director of the Hayden Planetarium and world renowned astrophysicist, Neil DeGrasse Tyson. To my surprise, he did a short email interview with me regarding the topic! I am so excited to bring you this interview! Dr.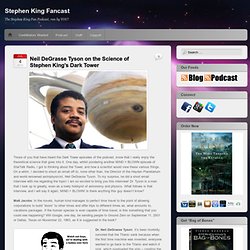 Where Are They Now? – Danny Lloyd | Stephen King Fancast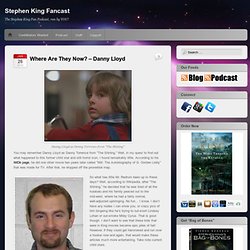 Danny Lloyd as Danny Torrence from "The Shining" You may remember Danny Lloyd as Danny Torrence from "The Shining." Well, in my quest to find out what happened to this former child star and still horror icon, I found remarkably little. According to his IMDb page, he did one other movie two years later called "Will: The Autobiography of G. Gordan Liddy" that was made for TV. After that, he dropped off the proverbial map.
Podcast: The Dark Tower Wrap-Up with Bryant Burnette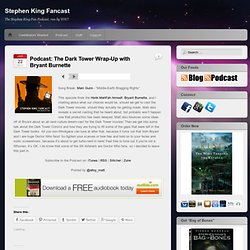 Song Break: Marc Gunn - "Middle-Earth Bragging Rights" This episode finds the Honk MahFah himself, Bryant Burnette, and I chatting about what our choices would be, should we get to cast the Dark Tower movies, should they actually be getting made. Matt also reveals a secret casting that he heard about, but probably won't happen now that production has been delayed.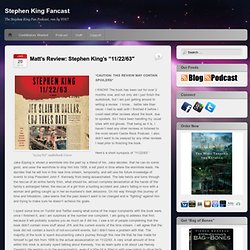 Matt's Review: Stephen King's "11/22/63″
"11/22/63" Audiobook Cover I KNOW! The book has been out for over 2 months now, and not only did I just finish the audiobook, but I am just getting around to writing a review. I know… better late than never.
GetGlue
Harry Potter Team, David Yates and Steve Kloves to Re-Boot Stephen King's "The Stand"?
GetGlue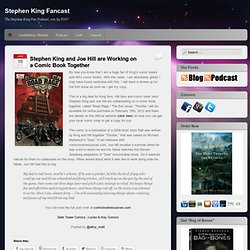 Stephen King and Joe Hill are Working on a Comic Book Together
By now you know that I am a huge fan of King's comic books and Hill's comic books. With this news, I am absolutely giddy! I may have found nerdvana with this.
GetGlue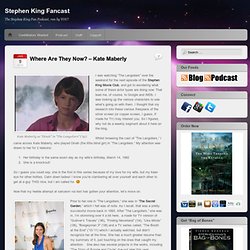 Kate Maberly as "Dinah" in "The Langoliers" ('95) I was watching "The Langoliers" over the weekend for the next episode of the Stephen King Movie Club, and got to wondering what some of these actor types are doing now. That lead me, of course, to Google and IMDb.
Where Are They Now? – Kate Maberly
GetGlue
GetGlue
I am joined on this episode by Bob Ledrew from the Kingcast! I have been wanting to do a collabo episode with Bob for a while, and couldn't see a better episode to have him on. We are both Dark Tower nerds and I am stoked that he was willing to join me. We got into DT movie casting just a bit, so those of you that are waiting for all that should enjoy it. This is not the final Dark Tower episode, but almost. The Next episode will be dealing with the Dark Tower Comics and some of the DT Movie stuff.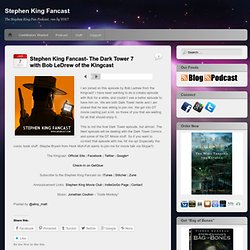 Stephen King Fancast- The Dark Tower 7 with Bob LeDrew of the Kingcast
GetGlue
GetGlue
GetGlue
I started the Stephen King Movie Club a little while back and made it available for your viewing pleasure on YouTube, as well as the blogs and various social sites. I heard from a few people that they would like to see it become it's own podcast as well. Now it is.
Stephen King Movie Club: Now Available as a Video Podcast
Bob LeDrew is the host of a wonderful website titled the Kingcast. A lot of King sites require a lot of reading. . . which is fine, since most of us read Stephen King! However, Kingcast also offers loads of audio interviews and is a very unique experience. Bob, as he shares below, is also a music lover and also a fan of Ray Bradbury.
My Interview With Bob LeDrew
GetGlue
GetGlue
Stephen King Movie Club: Storm of the Century
In a previous post, I stated that I was hoping to do a site re-build and add a bunch of new features for readers of this blog, listeners of the podcast and viewers of the Movie Club. I got a pretty good response from people about wanting to contribute to these changes and to help out in any way they can. I have decided to layout for you exactly what changes that, in an ideal world, I would be making to the Stephen King Fancast and why. Before I start hounding you for money, here's the story. Since this blog originally started as just a podcast, I was perfectly OK with having a free-hosted blog, or three of them, for that matter. This blog has taken on new aspects that I feel are deserving of a re-branding and a re-building.
Help Us Raise Funds for a New Stephen King Fan Experience
My Favorite Stephen King Audiobooks
If you are a listener of the Stephen King Fancast, you already know that I prefer audiobooks over books. I find that, when I'm reading, my mind tends to wander and I end up re-reading a lot of passages and still don't fully under the story once I have finished the book. When I listen to the audiobook, I am enthralled and allowed to play the mind movie game, which is my favorite part about books, while still grasping the story. That being said, I recently got an email from someone who wanted to get into listening to audiobooks and they were asking what a good place to start would be. That got me thinking about this topic, and I wanted to put up a post about what my favorite Stephen King audiobooks are, and why. This is a tough topic for me to cover, because there are qualities of the audiobook (reader, tempo, etc.) that have no bearing on the story but add a sense of gravitas that outweighs the story, in a way.
Video: Stephen King Interview about 11/22/63 on the Today Show
Stephen King announced last month that his foundation would match up to $70,000 if the listeners of the 3 Bangor area radio stations he owns would match it, making the total donation $140,000. This fundraising effort exceeded his expectations when an anonymous Californian offered to donate an additional $50,000 if King would match that. King, being a Mainer himself, agreed to the terms, making the total donation $240,000.
Stephen King Raises Funds to Help Pay Heating Costs in Maine | Stephen King Fancast
Help Us Raise Funds for A New Stephen King Fan Experience
GetGlue
GetGlue
Episode 20: The Stand, part 2 — you gotta have faith
Stephen King Movie Club: Carrie
Welcome to the Stephen King Movie Club
skfancast
skfancast
Stephen King FanCast
Stephen King FanCast (SKFanCast) on Twitter