Planning
Start your shopping here, and check out our "BRIDES Bonus" specials for huge discounts and free stuff. Details & Decorations 1. etsy.com We hit Etsy every day, looking for new handcrafted goodness from its more than 400,000 artisans. Wedding finds range from custom cake toppers to tree-bark table numbers. 2. threepotatofourshop.com No need to scour flea markets for old apothecary bottles. The site has plenty of vintage items you can buy in multiples, with regularly updated inventory.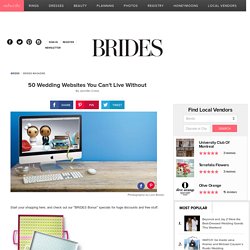 Click Here To Upgrade If You Are An Existing OneStopWeddingPlanner.com Member One Stop Wedding Planner recently launched a new wedding planning website called BridePros. BridePros.com is an amazing wedding planning tool or considered to be the ultimate wedding planner that connects wedding couples, such as yourself, with wedding professionals in the area you're getting married.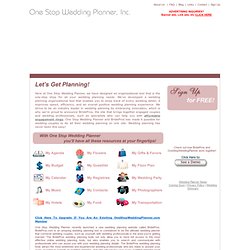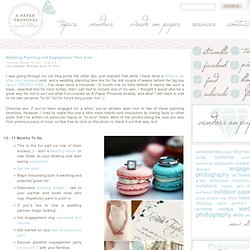 Wedding Planning and Engagement Time LineThursday, August 18, 2011 ~ 9:30 a.m.Last updated: Monday, June 18, 2012 I was going through my old blog posts the other day, and realized that while I have done a What to do after your engaged post, and a wedding planning time line for the last couple of weeks before the big day (a.k.a. CRUNCH TIME), I've never done a complete, 12 month one on here before!
Q: "Ways to Cut Costs of a Wedding?" Just like the variable nature of market price of our northeastern crustaceans, weddings have a lot of gray area that you can cut out without ordering the soup and salad. by The Bride Next Door Q: Top 10 Classic Wedding Songs Choosing wedding songs is always a tough part of the wedding planning process. We want to help so we found this great list of the ultimate classic wedding songs. by All The Answers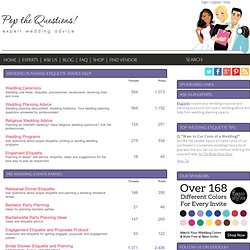 Wedding Planning + Wedding Etiquette: Free Wedding Planning Advice By Top Wedding Questions
For 75 years, Alfred Angelo has been helping brides have the day of their dreams and now we want to share our best tips with you. All about your dress 1. Gown shopping should be a priority on your 'to do' list. It takes months to make your dress, so give yourself plenty of time. 2.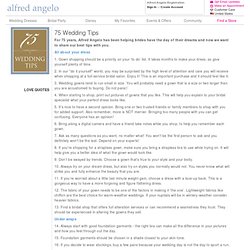 WeddingTips
Loading... Loading... Loading... Create inspiration boards, share ideas with your friends and wedding vendors, get feedback from brides like you, and lots more! Featured Vendors Near You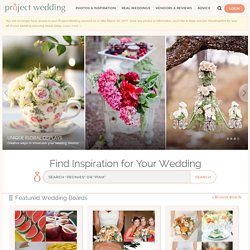 Google Wedding Planning