Planning
The Knot. 50 Wedding Websites. Start your shopping here, and check out our "BRIDES Bonus" specials for huge discounts and free stuff.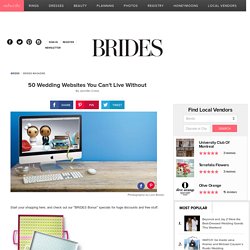 Details & Decorations 1. etsy.com We hit Etsy every day, looking for new handcrafted goodness from its more than 400,000 artisans. Wedding finds range from custom cake toppers to tree-bark table numbers. 2. threepotatofourshop.com No need to scour flea markets for old apothecary bottles. The site has plenty of vintage items you can buy in multiples, with regularly updated inventory. Ultimate Wedding Planner And Organizer. Wedding Planning and Engagement Time Line. Wedding Planning and Engagement Time LineThursday, August 18, 2011 ~ 9:30 a.m.Last updated: Monday, June 18, 2012 I was going through my old blog posts the other day, and realized that while I have done a What to do after your engaged post, and a wedding planning time line for the last couple of weeks before the big day (a.k.a.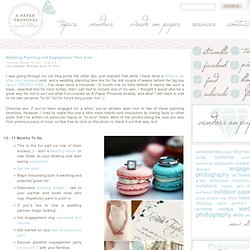 CRUNCH TIME), I've never done a complete, 12 month one on here before! Wedding Planning + Wedding Etiquette: Free Wedding Planning Advice By Top Wedding Questions. A Subtle Revelry. WeddingTips. For 75 years, Alfred Angelo has been helping brides have the day of their dreams and now we want to share our best tips with you.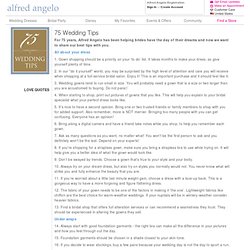 All about your dress 1. Gown shopping should be a priority on your 'to do' list. It takes months to make your dress, so give yourself plenty of time. 2. Project Wedding. Google Wedding Planning. Wedding Planning, Advice & Etiquette.
---