Interior Design
Sleeping in an original bed. The Psychology of Color. Notre Maison. I like this layout just like I would like what the runway models wore at a fashion show.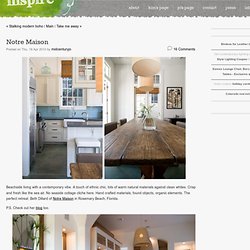 For its artistry. It's use of color(though sparse in the design... because of the light the atmosphere provides and the less color the more the light can pour in and bounce off of itself...), pattern, texture and creative style. You have to take into account all of the contributors to the design. Reading Nooks. Victorian Cottage. 14 Cool And Unusual Aquariums. EmailEmail Do you live a stressful life, have high blood pressure and insomnia?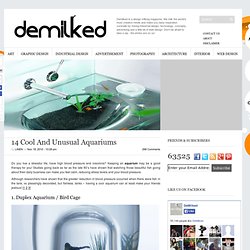 Keeping an aquarium may be a good therapy for you! Studies going back as far as the late 80's have shown that watching those beautiful fish going about their daily business can make you feel calm, reducing stress levels and your blood pressure. Although researchers have shown that the greater reduction in blood pressure occurred when there were fish in the tank, vs pleasingly decorated, but fishless, tanks – having a cool aquarium can at least make your friends jealous!
Dreamy Bedrooms. Beach House. Box Bed. We often show ingenious ways of hiding the bed .
French architects Emmanuel Combarel Dominique Marrec offer a new one: turn it into a sculptural element, in this case a box hanging from the ceiling. Watch Video: World's Greenest Homes From the other side, it is a short step up from the existing mezzanine. Dream Bedrooms. Gardener & Marks. Coat Hooks. Back in Los Angeles, any old coat rack or a few hooks by the door would do.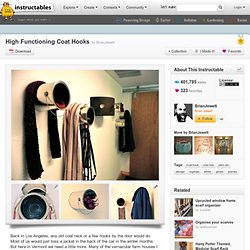 Most of us would just toss a jacket in the back of the car in the winter months. But here in Vermont we need a little more. Many of the vernacular farm houses I visit have at least a half dozen hooks per person lined up in their mud rooms. My wife and I each will have several different coats, jackets and vests in play all winter long.
Add to that assorted scarves, hats and gloves, several of each for both of us, and your average coat rack doesn't stand a chance. Indoors Outdoors. [...] miss, miss design, miss-design, missdesign, design, illustration, interior, interior design, style interior, interior old style, workspace, workplace, creative workspace, veranda, garden, balcony, exterior, photography, studio, 3d, typography, blog, person, architecture, arts, creative, layout, design studio, inspire, inspiration, technology, resources, tools, internet tools, discussions, bridal bouquet, font, free font, digital art, logo, logotype, typographic design, tutorial, tutorials, icon, icon tutorial, how to, industrial design, camera lens, canon, nikon, pentax, olympus, books, bookshelves, cupboard, chair, unique style, unique design, unique interior, before and after, benchmark Outdoor style | Miss Design – StumbleUpon [...]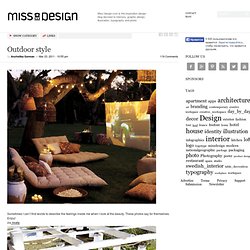 DIY Furniture Makeovers. I'm obsessed with making-over old, worn out furniture.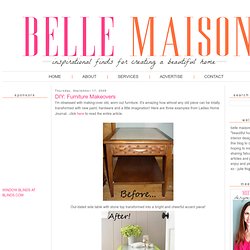 It's amazing how almost any old piece can be totally transformed with new paint, hardware and a little imagination! Here are three examples from Ladies Home Journal...click here to read the entire article. Wall Murals. Mydeco.com. HouseBeautiful.com. Luxurious Bathtubs. This is the photo that got me busy writing this ideabook.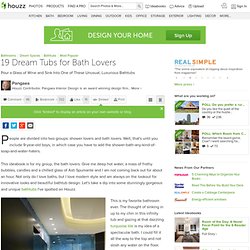 I had never before seen a glass-sided bathtub, and this one completely appeals to my minimalist tendencies. The architect, David Stern, says the client wanted this custom made tub for the kids bathroom and wanted it to feel fresh and fun. Well, he succeeded. But here is what I want to know: Why should the kids have all the fun?
Bunk Beds. Whether you have a large family or a busy summer house, a bunk room is an ideal solution for accommodating lots of guests.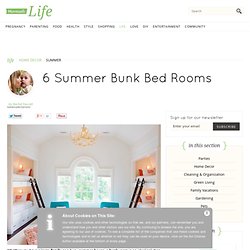 Here are some of our favorites. This nautical-inspired bunk room in a Hamptons home by Steven Gambrel features lots of room for storage with built-ins and under-bed drawers. Custom netting provides safety for the top bunks. Christmas Lights in Bedrooms. Simple Creative Home. Posted by rd on Wednesday, October 19, 2011 · I recently discovered The Selby, and here is a home, more or less 1000 sq ft., bursting with neutral colors making it 'bigger' than it actually is.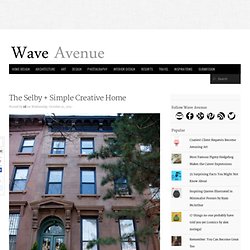 I really love the combination of open planning and simple palette in this home.. Everything's seems within reach but doesn't appear too crowded.. Every area is properly spaced.. First thing that caught my eye was the loft guest bed (sleeps overs not a problem!).. Secret passages in a house. By Marshall Brain | March 25, 2010 How cool would it be to have a secret passage or a secret room in your house?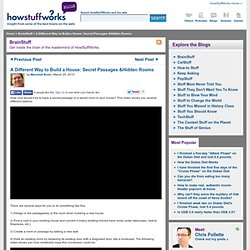 This video shows you several different options: There are several ways for you to do something like this: 1) Design in the passageway or the room when building a new house 2) Find a void in your existing house and convert it (many existing homes have voids under staircases, next to fireplaces, etc.) Lofted Space-Saving Furniture.
---